Apple could release a weak report on Thursday but investors might celebrate anyway
3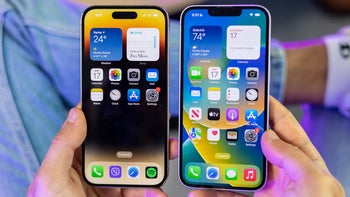 This coming Thursday at around 5 pm EST,
Apple
will release its results for the fiscal first quarter of 2023. The report from Apple might not be pretty considering that the biggest iPhone production facility in China had to halt production of the iPhone 14 Pro series during the quarter due to China's COVID crackdown. So Apple's priciest iPhone 14 models were not easy to find at some points during the three months which cost the tech giant some revenue and earnings for the period from October through December.
Shortages of the iPhone 14 Pro series surfaced during the start of the holiday shopping season

The shortages started to be felt in November which unfortunately was bad timing since it was the start of the holiday shopping season.
Apple warned consumers
that month by saying, "We now expect lower iPhone 14 Pro and iPhone 14 Pro Max shipments than we previously anticipated and customers will experience longer wait times to receive their new products."

As we pple warned consumers about the iPhone 14 Pro shortages early in November
UBS analyst David Vogt wrote in a note to clients earlier this month, "We believe the peak impact of the disruptions was felt in early to mid-November as wait times hit an extreme level (link) as the wait time in the US for the 14 Pro and 14 Pro Max reached 34 days while wait time in China at the high-end hit 36 days." So what will all this mean for Apple and its investors?

According to
CNBC
, when Apple reports its fiscal first quarter results on Groundhog Day (February 2nd), it will show the first year-over-year decline in quarterly revenue since 2019. Analysts surveyed by financial data provider Refinitiv expect Apple's top line to reach $121 billion for the fiscal first quarter of 2023 which would be a 2.3% year-over-year decline from the $123.9 billion in revenue generated by Apple during the same fiscal quarter in 2022.
What the Wall Street consensus is expecting Apple to report on Thursday

While the issue at Foxconn's Zhengzhou facility impacted mostly Apple, some of the revenue decline is due to an overall weak environment for tech products in general. Shipments of smartphones declined 18% during the calendar fourth quarter (which is the same period as Apple's fiscal first quarter of 2023) which was the worst quarter turned in by the smartphone industry ever. And Apple also had to deal with a poor quarter for PC sales as shipments of those devices declined 28% during the calendar fourth quarter according to IDC.
Even though Apple is outpacing its competitors in both markets, the economic weakness is still going to take its toll on Apple's fiscal Q1 results. Morgan Stanley analyst Erik Woodring earlier this month sent a note to clients in which he wrote, "While the state of consumer demand remains a near-term concern, we believe the underlying drivers of Apple's model - a growing installed base and spend per user - remain intact, and that the strength/stability of Apple's ecosystem remains undervalued."
For Apple's fiscal first quarter 2023, the Wall Street consensus (via Refinitiv's survey of analysts) is as follows:
Revenue: $121.19 billion.
Earnings per share: $1.94 per share.
iPhone revenue: $68.29 billion
iPad revenue: $7.76 billion
Mac revenue: $9.63 billion
Other products revenue: $15.26 billion
Services revenue: $20.67 billion
For the current fiscal second quarter which ends in March, analysts see a slight increase in revenue to $98 billion on an annual basis. Morgan Stanley's Woodring stated, "While we believe it's well understood that Apple's March quarter revenue should decline at a less-than-seasonal rate due to the pushout of iPhone demand from the December quarter to the March quarter, the consumer electronics spending backdrop remains challenging, with tablets, PCs and more discretionary products (i.e. wearables) all facing continued demand headwinds."
Woodring's comments mirror what most analysts expect will happen this quarter. All of the unfulfilled iPhone demand from the fiscal first quarter, when supplies of the iPhone 14 Pro series were low, will show up in the fiscal second quarter. And since Wall Street likes to look ahead, even if Apple releases a soft report on Thursday, the stock might get a lift once investors realize that the quarter that had Apple and consumers cope with an iPhone shortage is now out of the way.
Apple's shares closed down $2.93 or 2.01% today to $143 in regular NASDAQ trading. The stock's 52-week high is $179.61 and the 52-week low is $124.17.