Apple patented a non-floating sliding Magic Keyboard for the iPad
1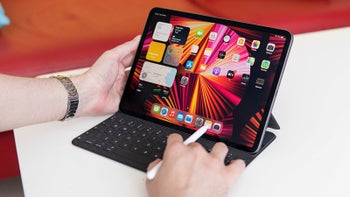 Apple
's Magic Keyboard for the iPad might get an upgrade that changes it completely. According to a
new patent
filed by the Cupertino company we might see a non-floating Magic Keyboard in the future.
The current Magic Keyboard for the iPad Pro makes it "float" above the keys and has a strong hinge with which you can adjust the tablet's position. In the new patent, we see a non-floating tablet standing at the top end of the keyboard. There are two hinges, just like on the current Magic Keyboard.
The difference between the current one and the keyboard in the patent is that the latter slides forward with the iPad. This way when you adjust the Apple tablet's position and angle the keyboard also adjusts accordingly. The keyboard is no longer the body of the accessory, and it's got another layer below it instead. Apple calls it a Sliding Input Device Cover in the patent. Of course, this is probably just a technical name and it won't be used if Apple decides to release such a product. The current Magic Keyboard doesn't move with the iPad.
Apple's new patent also gives a glimpse into how the current Magic Keyboard's double hinge design works. The double-hinge mechanism is seen supporting an iPad at various angles, just like the current Magic Keyboard.
This new patent doesn't necessarily mean Apple is going to make a non-floating Magic Keyboard. The Cupertino company could've filed it just so it can block other companies from using the technology. Truth be told, this could've also been one of the original designs for the Magic Keyboard and Apple could've later on decided on the floating iPad one instead.
The Apple Magic Keyboard for iPad was first launched with the 2020 iPad Pro. This year the accessory got a slight redesign for the 2021 iPad Pro series.
Currently, the Apple Magic Keyboard is available in two versions: one compatible with the 11-inch 3rd Gen iPad Pro and the
4th Gen iPad Air
, and one with the
12.9-inch 5th Gen iPad Pro
. The first one costs $299, while the second one costs $50 extra.