The best iPhone 12 price and deals on T-Mobile, Verizon, AT&T, or unlocked
8
We may earn a commission if you make a purchase from the links on this page.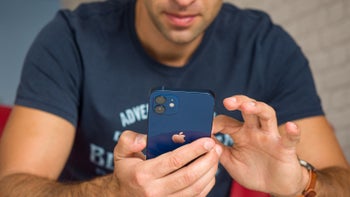 Despite the fact that the
iPhone 13
is already on the market, the iPhone 12 series is still a good choice for 2021 and is now pretty much dropped in price by some $100. The iPhone 12 sports flat edges, 5G support, and still mighty and powerful performance, great camera, and support for some four years to come.
So, if you're looking into getting yourself a new iPhone 12, here are the best deals on it that are currently available, so you won't have to waste time researching for the best offer.
In this article, we have compiled a list of the best offers on the iPhone 12: at Apple, Verizon, AT&T, T-Mobile, alongside iPhone 12 deals on Best Buy and Target.
This article is for the regular iPhone 12. If you're looking into buying an iPhone 12 mini, iPhone 12 Pro, or Pro Max, check these out:
Buy iPhone 12 from Apple.com: get $100-$700 off with trade-in
You can get up to $700 off with eligible device trade-in with Apple. To benefit from a hefty trade-in discount, you have to trade-in an iPhone 8 or newer. You can also trade-in Android phones, such as the Galaxy Note 10 or Note 20. The newer the phone is, the better the trade-in offer. Keep in mind that the trade-in phone has to be in good working condition to benefit from a trade-in discount.
AT&T iPhone 12 deal
Now, new or existing AT&T subs are able to get the iPhone 12 128GB for just $20 a month (36 installments). This offer means you will have to pay overall $720 of the iPhone 12, instead of its full retail price that is currently $779 (we are talking here about the 128GB model, not the base 64GB one).

On the other hand, if you decide to go for the 64GB version, AT&T offers you to pay $15 a month for 36 months, which means you will end up paying for the iPhone 12 $540, instead of $729.

Additionally, AT&T still has a trade-in offer for your old phone, but it is a bit more modest currently: you can get up to $200 discount.
Apple iPhone 12 price, deals and availability on Verizon
With its cute mmWave 5G network, Verizon wasn't really a contender in nationwide coverage compared to T-Mobile, at least initially, but now it certainly made it up in speed. Together with the iPhone 12, it announced availability of its 5G Ultra Wideband service in 55 more cities, 43 stadiums and arenas, and seven airports, making its "5G Nationwide service" available to more than 200 million people in 1,800 cities in the US.
Verizon iPhone 12 prices are as follows:
iPhone 12 starts at $23.33 per month for 24 months on Verizon device payment (0% APR, $699.99 retail)
Verizon iPhone 12 deals list:
Save up to $1000 when you switch to Verizon

Save $250 on iPad with the purchase of iPhone
Save $150 on Apple Watch with the purchase of iPhone

Apple iPhone 12 T-Mobile promos
The iPhone 12 price on T-Mobile are as follows:
iPhone 12 from $24.34 a month for 30 months, or $729 before trade-in

Still, at
T-Mobile
, new and existing customers can benefit from a hefty discount (with trade-in):
Get it for FREE with Magenta MAX and trade-in of an eligible device
iPhone 12 deals at Best Buy
Best Buy often has generous discounts on hot phones. Currently, the T-Mobile iPhone 12 comes with a good trade-in offer. With eligible trade-in, you can get up to $525 off on the iPhone 12. Verizon is selling the iPhone 12 at retail price right now.

Unfortunately, the AT&T-locked iPhone 12 is out of stock, so keep that in mind.

Apple iPhone 12 deals at Target and Amazon
Target currently sells the iPhone 12 at its retail price, and so does Amazon. When deals show up on these, we'll make sure to include them here.