Apple sees declining sales for two key units this quarter
0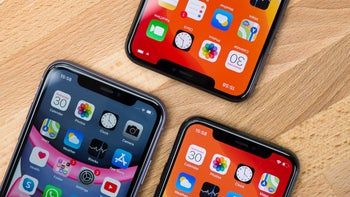 When
Apple released its fiscal second quarter results yesterday
, CEO Tim Cook declined to give the usual estimates for the current quarter. The executive said, "We have great confidence in the long-term of our business. In the short-term, it's hard to see out the windshield to know what the next 60 days look like, and so we're not giving guidance because of that lack of visibility and uncertainty." Of course, it is the coronavirus outbreak that is fogging up Cook's windshield.
Apple sees iPhone and Wearables revenue declining in the fiscal third quarter

Apple CFO Luca Maestri
spoke with the Financial Times
(via
9to5Mac
) and discussing the lack of fiscal third-quarter guidance he stated, "We really didn't feel there was enough visibility and certainty to provide guidance and frankly we didn't want to do something that didn't have much value for investors." Still, Apple did eventually release some broad revenue trends it expects for the current quarter that wraps up at the end of June.
For the fiscal third quarter, Apple sees lower revenue on a sequential basis for the iPhone and its fastest-growing unit, Wearables, Home, and Accessories. That means that revenue for the third quarter for both divisions will be lower than the figures reported yesterday for the fiscal second quarter. For the iPhone, that means we should expect revenue to fall under $28.96 billion. And Wearables gross should be less than $6.28 billion. The latter segment includes the top-selling timepiece in the world, the
Apple Watch
. It also includes the immensely popular
AirPods
earbuds
.
Apple does see revenue rising from last quarter's numbers for the iPad. As we've pointed out numerous times, tablet demand is rising because of the COVID-19 related quarantines. People working from home are relying on the device to handle work-related tasks from their living rooms, and kids are using tablets to stream lessons and to do school work. As a result, we should see Apple report tablet sales in excess of $10.35 billion for the three months from April to the end of June.
There are so many variables involved in figuring out what the future holds for any company let alone Apple. For example, the other day we told you that
it was conceivable that some Apple Stores could reopen today
. That's because America's largest mall operator, Simon Property Group, planned to reopen on May 1st. There are 13 Apple Stores located in Simon's malls. However, when we called the stores, each one was closed until further notice.
During the current quarter, it is possible that Apple will introduce some new products. This could be done during the WWDC Developer Conference
that Apple moved online back in March
. Usually, the annual event takes place at the San Jose Convention Center and consists of the keynote and individual sessions for developers to attend. When it made the announcement Apple said, "We are delivering WWDC 2020 this June in an innovative way to millions of developers around the world, bringing the entire developer community together with a new experience. The current health situation has required that we create a new WWDC 2020 format that delivers a full program with an online keynote and sessions, offering a great learning experience for our entire developer community, all around the world. We will be sharing all of the details in the weeks ahead."
During the keynote not only will we learn more about iOS 14 but we could also see Apple unveil its long-awaited AirTags. Using the U1 ultra wideband chip found on the
iPhone 11
series, the tags also use AI to help users find things that have AirTags placed on them such as a bicycle, a briefcase, a keychain, and even a dog collar. Reliable analyst Ming-Chi Kuo said earlier this year that he expects Apple to produce 10 million AirTags this year. Another possible device that some expect to see at WWDC is the AirPods Pro Lite. The latter would have some of the features found on Apple's premium wireless Bluetooth earbuds except for noise cancellation.
Apple has yet to announce a date for WWDC; if it is held in mid-June and Apple does introduce the AirTags and the AirPods Pro lite, some revenue for these products might be included in the fiscal third-quarter numbers depending on their release dates.