Reliable tipster reveals how Android phones in India will differ from the rest of the world
3
Recently,
Google was forced to agree to make some changes to the Play Store
for users in India to comply with the country's law. Now,
AndroidAuthority reports
that prolific leaker
Kuba Wojciechowski
has come across the internal document detailing all the changes that will apply to Android phones in India. Let's see what those are!
Android phones in India could become quite different than those in the rest of the world
According to the document discovered by the leaker, India will receive a version of Google Mobile Services (GMS) with optional Google Apps. First off, phone makers will be given the chance to choose a version of either Indian Mobile Application Distribution Agreements (IMADA) or the regular MADA that is in other markets.
There are four important elements to this - first: the optional nature of the new agreement.

OEMs that intend to release in India have two options: release under regular Mobile Application Distribution Agreement (MADA) or opt in for IMADA which contains the reduced requirements.

— Kuba Wojciechowski (@Za_Raczke) February 18, 2023
If phone makers chose IMADA, they can only sell those phones in India. However, interestingly enough, choosing IMADA seems to be optional, unlike other MADA agreements for other countries, where the regulations are mandatory (such as EMADA, which is for Europe, or TMADA, for Turkey, among others).
In the Indian version of the MADA, fewer pre-loaded user-facing apps are going to be required. The regular agreements include 11 pre-installed Google apps, but for the Indian market, only the Google Play Store is required. Of course, OEMs will be allowed to pre-install other apps if they so wished.
Google will be setting a per-app bounty for devices that include any of the 11 core apps (those ones that are required for global versions of Android phones), but the leaker doesn't have information on how high the bounty will be, and how it will be paid out. However, he believes the exact conditions of the per-app bounty will be negotiated with each phone maker.
IMADA also doesn't require that Google includes a Google search bar, a Google folder, or the Play Store icon on the main screen of a phone. And, Indian users will be able to choose their default search engine during the setup process. Reportedly, this option will be available from the second quarter of this year.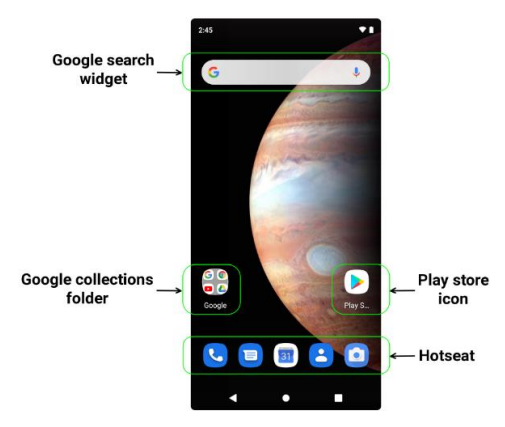 (Image Source - Kuba Wojciechowski) Those will not be required in Android phones for India
Phones that are a part of the IMADA agreement can be sold only in India. If you live outside of India, the regular settings that you've been having will apply to you.
Why are Android phones going to be different in India?
Well, last year
India's Supreme Court fined Google for anti-competitive practices
. Google did try to appeal the decision of the court, but the court denied its appeal. All in all, Mountain View found itself faced with having to make changes to the way its services work in India if it wanted its services to be allowed to work in the country.
Google then announced a list of major changes that it was planning to make in order to comply with the law. For example, Google will be giving its licenses for its own apps to third-party manufacturers so they can have them pre-installed on their Android phones.
From this month, developers will be allowed to incorporate their preferred billing system in their apps and games for in-app purchases. This eliminates the need for developers to pay the so-called 'Google Tax'.
Also, changes on how sideloading and installing other app stores on Android will work are also a part of the planned moves by Google. Basically, the emphasis will be on educating users on the possible risks of sideloading.
Also, Android users in India will be getting revamped Help and FAQ articles on the changes so that everyone is informed.
Of course, fully complying with the law is not an easy or quick process for a company like Google, and months will pass before everything is correctly aligned with the law. As we already said, this doesn't affect other markets... but we can't be sure how such laws will affect the global tech industry in the future.