Did you know Facebook owns WhatsApp? Most Americans don't, and that's a problem
16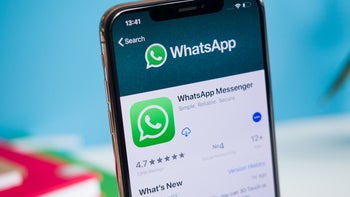 If the massive
Cambridge Analytica data collection scandal
or
more recent hacks
of a
staggering number of Facebook accounts
made you delete the world-dominant social network and move to Instagram and WhatsApp, you might be missing an important point.

The three brands are actually owned by the same company, which is a detail most tech-savvy consumers are well aware of. But even though Facebook closed its highly publicized WhatsApp acquisition around four years ago, a big chunk of the latter's users may not be as knowledgeable about the two's tight relationship as you think.

DuckDuckGo, the privacy-focused web search company, recently conducted a survey among 1,297 randomly selected but demographically representative US adults, finding more than half of those who used WhatsApp in the previous 6 months were not aware of the app's connection to Facebook.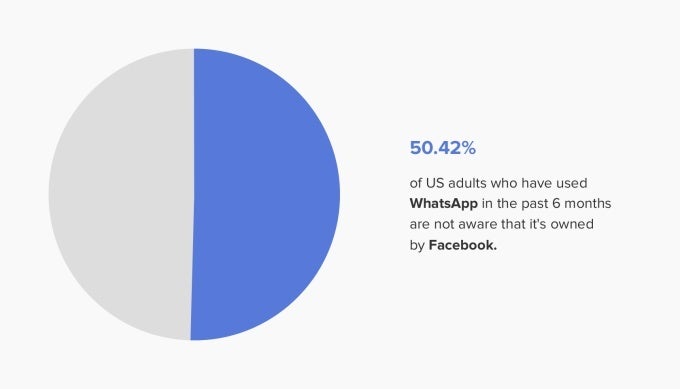 Similarly, a whopping 56.38 percent of respondents who used Waze had no idea the navigation service is owned by Google, which has been true since 2013. The numbers are fairly close to those yielded by an April survey focusing on Instagram and YouTube's ties with Facebook and Google respectively, which are also not as widely known as we'd expect.

Why is this stuff important aside from giving us yet another reason to lose faith in humanity? For one thing, because maybe these companies are not doing such a great job advertising their business links.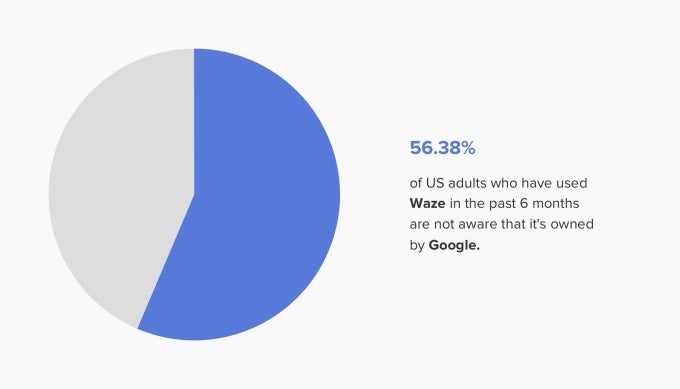 Obviously, we wouldn't expect WhatsApp to change its name to... FaceApp or Waze to become
even more similar to Google Maps
, but some users would definitely appreciate a more upfront word of warning about certain data sharing policies. Specifically, the fact their personal information harvested from WhatsApp and Waze accounts will often go directly to the two's parent companies.
For pretty obvious reasons,
controversial tech giants like Facebook
and
Google
prefer to keep their subsidiaries on as separate entities with their own brand identities, which unfortunately leaves the research responsibility to every individual user. On the bright side, it's extremely easy to find this information... if you're indeed concerned about your online security and privacy.