Amazon makes Alexa even more flexible with different speaking rates
1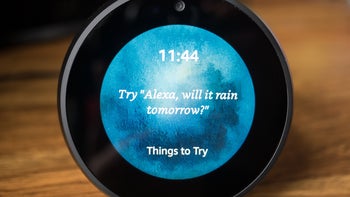 Alexa might be a little less knowledgeable about certain things than
Google Assistant
, but Amazon's popular AI-based tool stands out with its flexibility and continuously improving
ease of use
. The
latest feature enabled
on the e-commerce giant's Echo device lineup in the US this week is hardly what we'd call groundbreaking, but alongside
other small things
enhanced and upgraded in recent months, it proves the company cares about its existing user base instead of just
boosting shipment figures
.
With minimal effort, you can now adjust Alexa's speaking rate, which will no doubt come in handy in many different usage scenarios for various types of users. For one, Amazon says hard of hearing and older customers will be able to understand their personal assistant better if the answers to their questions are delivered a little slower. Meanwhile, people with low vision might be accustomed to a faster audio content consumption rate, in which case they can simply ask Alexa to speed things up just for them.
All you need to do is, well, ask in the most natural and straightforward way possible by saying "Alexa, speak slower" or "Alexa, speak faster." Perhaps the coolest thing about this functionality is that it supports a grand total of seven speaking rates, four faster, two slower, and a "normal" one to make sure each user's individual needs are catered to specifically. By the way, returning to the standard setting is as simple as saying "Alexa, speak at your default rate."
Obviously, the feature is being widely rolled out to the public after quite a bit of internal testing, which yielded a lot of positive feedback from all kinds of users who appreciated the opportunity to further fine-tune Alexa's skills and delivery. Your move, Google!