Zenonia 3 coming to Android June 30th
4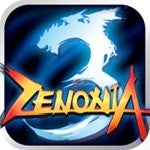 Good news Zenonia fans! Developer GAMEVIL has confirmed that they are planning to release Zenonia 3: The Midgard Story on Android on June 30th. This marks part 3 in the RPG series, and will more than likely make at least a few dozen hours disappear from your life. The Zenonia games are traditional top-down RPGs that draw heavily on early Zelda, Final Fantasy, and other RPGs from the 8 to 16-bit eras.
GAMEVIL didn't just add features, they also removed some older features that they thought weren't working so well. This means that Zenonia 3 will not feature the weight or hunger system of the past games, which should allow you to focus more on the adventure at hand. The story is a continuation of the series.
Assuming it stays the same as the first two games, Zenonia 3 should be 99 cents at launch.
source:
Droid Gamers