ZTE Nubia Z7 photos showcase thin bezels and HTC design inspiration
13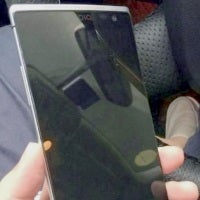 Here's a riddle for you - what has the LG G3's thin bezels and the HTC One M8's all-metal appeal? Got you, huh? Well, the answer is the ZTE Nubia Z7 - the latest in the Chinese manufacturer's
high-end family
. It goes without saying that the new Nubia flagship is one impressive smartphone in all regards.
Measuring 8.5mm in thickness, it houses a full-blown 5.5-inch 1080p display, a Snapdragon 801 or maybe an 805 CPU, 2 gigabytes of RAM, 16GB of storage, a pair of 5 and 8-megapixel cameras front and rear, and dual-SIM slots. LTE is on-board, too. And while it's early to talk big about the design, the HTC influence is quite apparent. We can't help but wonder whether the gun-metal aluminium we're seeing is real, or cleverly disguised plastic.
Alas, this beauty comes with a hefty price tag for a Chinese smartphone - it's around $560. We're not saying the Nubia Z7 ain't worth it - it's just that Xiaomi will probably launch an equally impressive (if blander-looking) Xiaomi Mi-4 pretty soon, and we all know how China's mega-startup prices its production. Either way, that's for someone else to worry about, so enjoy the photos and appreciate that manufacturers are starting to catch on to the slim bezel trend. Not only it looks sleek, but if you own a big phone, those slim bezels are really good for your fingers.