ZTE Nova 3.5 hands-on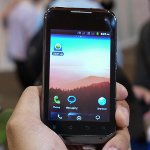 If you're quite familiar with Chinese smartphone maker ZTE, then you probably know the kind of devices they're known to put out. Honestly, when it comes down to it, they've nailed it down to a tooth when it comes to producing downright cheap devices – and the same implies to the European bound
ZTE Nova 3.5
.
Unlike the modest
hardware specs seen with the ZTE Nova 4.0
, the Nova 3.5 is the embodiment of what it means to be a ZTE device. For starters, it's constructed out of
cheap plastics
, which does contribute to a
lightweight feel
, but doesn't instill much confidence with its
flimsy build quality
. Trying to add a level of premium to the device, it sports a glossy trim bezel, but it does little to add any appeal to the handset's uninspiring design.
Continuing the theme of cheap, we notice it instantly with the
3.5" HVGA LCD display
it's packing along for the ride – as it sports some
terrible viewing angles and washed out colors
. Unless you're holding it exactly at a 90-degree angle, it's very difficult to make out anything on the display itself. No doubt considered to be an entry-level device, its
single-core 800MHz Qualcomm MSM7625 processor
performs sluggishly throughout many aspects. Probably, it could be due to the custom UI it's running on top of Android
2.3
Gingerbread, or something else, but in either case, the handset simply exhibits a lot of lag and choppiness.
Despite its less than stellar appeal from a cursory look, this handset is bound for the European market with no price attached to it. Nevertheless, even if it's priced really low, it's still going to be rather difficult to entice people.