ZTE Nova 4.0 V8000 hands-on
5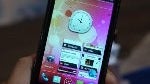 Currently,
Cricket Wireless
customers are relishing on the respectable Huawei Mercury, but it appears as though ZTE is readying a device that's sure to compete against it. Although it has yet to become official, we're told that the
ZTE Nova 4.0 V8000
is headed to Cricket's lineup sometime in the future, bringing along some appealing specs that should no doubt capture the attention of Cricket customers.
Hardly flinching from the usual design elements we've seen in the past, the ZTE Nova 4.0 V8000 sports an
all-plastic body
, with a glossy trim bezel and soft touch back cover. Certainly, it's not the most solid device we've had the opportunity to check out, but nevertheless, it contributes to a
light weight feel
in the hand. Not something that we see from a ZTE device, the handset's
4-inch WVGA LCD display
no doubt stands out most for its size – so yeah, we're comforted to see that on this one. Even better, the NOVA 4.0 V8000 is powered by a beefy
single-core 1.4GHz Qualcomm MSM8655 processor
, and combining its stock Ice Cream Sandwich experience, it runs pretty smooth with barely a hitch to its performance.
For an ICS device, especially a stock one, it's rather strange to find it flaunting the usual set of Android capacitive buttons – as opposed to being integrated with the interface. So yeah, they seem cramped and prone to accidental presses. Outside of that, the smartphone also features an 8-megapixel auto-focus camera with LED flash, 1,900 mAh battery, Bluetooth, 1GB RAM, 4GB ROM, and Wi-Fi.
No pricing has been attached to the device, but if it's going to be competing against the Huawei Mercury, it'll more than likely be priced under $300 no-contract. Still, we're only waiting for an official confirmation for this device's arrival on Cricket Wireless at this point.