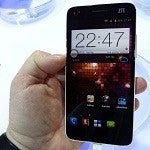 ZTE was on hand today to announce its new flagship Android handset, the Grand S. The Grand S sits at the table of what appears to be the benchmark for high-line Android devices, 5-inch HD screen, quad-core processors and high-spec camera.
ZTE's latest effort brings specifications which are currently on-par with offerings from more familiar manufacturers. The 5-inch "FHD" screen is crisp and clear. Processing power is provided by a 1.7GHz quad-core Snapdragon S4 Pro, which chews through Android Jelly Bean version 4.1.2. The camera is 13MP and obviously shoots full HD video. The front facing camera is 2MP which will also record in 1080p. The Grand S has 2GB of RAM with 16GB of storage which is expandable with up to a 32GB microSD card. Dolby digital surround sound also augments the audio experience.
With out initial hands-on, we noticed a little bit of stuttering in the user interface, though these were display models so we will not pass judgment. One neat feature is the on-screen navigation buttons which you can assign to different positions on the screen. This can come in handy and spare an awkward thumb position to try and touch the traditional on-screen buttons at the button. This is ZTE's premium handset. It is light and pocketable, and the build quality looks pretty good. The Grand S will be available in China beginning next month. No price point was announced, and no carrier announcements for the US have been made.
ZTE is working to expand its presence in the US, however the manufacturer will need to bring the Grand S to market very soon or risk facing yet a newer generation of offerings from the manufacturers that are well established in the US and European markets. Check back to this post as we will be updating it with a hands-on video soon.