Your daily Droid dose
10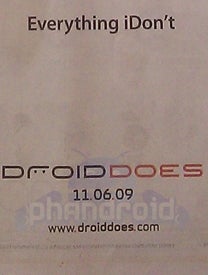 It seems like we can't go a day without some new bit of info coming out about the
Motorola Droid
phone for Verizon. Yesterday the Droid was listed on
Motorola's web site
for a few hours showing all of the specs, but was then pulled down. First off today,
BGR has a preview and video
of the Droid, saying "
We love the build quality of this phone. It's mostly metal, and whileit's heavy, it gives you a reassuring quality feel that you just don'tfind much nowadays as handsets get thinner, lighter, smaller, andcheaper. It's the largest capacitive screen we've ever seen and it's positivelyamazing. It's crisp, sharp, vibrant, bright, and really, reallyresponsive. It's almost iPhone-level in terms of the capacitive touch. As far as the actual keyboard goes, there isn't as much feedback aswe'd have liked from the keys, but since the phone is so darn thin,there had to be compromises somewhere. The Droid sounds great as a phone. Calls with the handset overVerizon's network sounded clear and the phone application itselfperformed really well. It's speedy and there weren't any hiccups unlikesome other Android devices we've fooled around with
."
Moving on, a Droid advertisement was spotted in the
San Diego Union Tribune newspaper
today showing a release date of
November 6 2009
, not November 9th that was originally rumored. There is still a press event in New York next week on the 28th, so we hope the Droid will be fully unveiled at that time.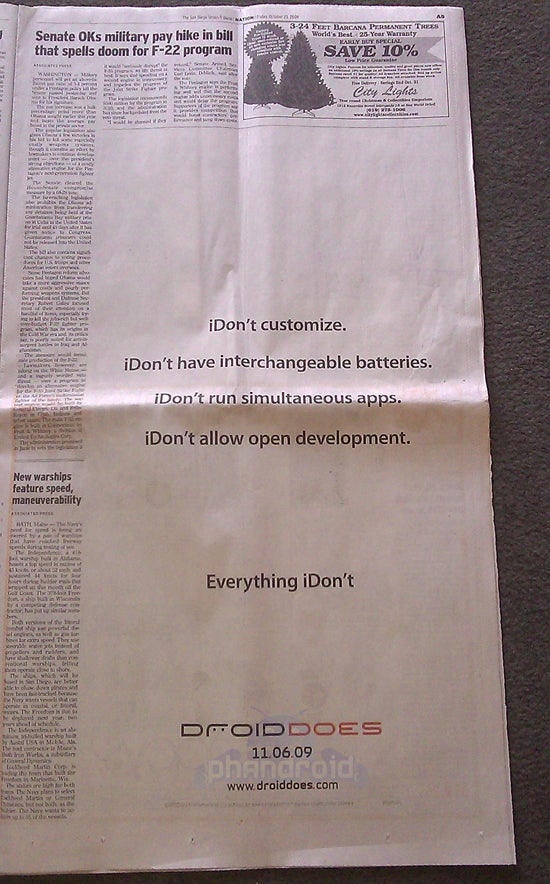 Lastly, one of our more reliable sources told us today that pricing for the Droid has not been finalized as of yet, but employee training will begin next week and the "estimated" price is
$149.99
(after $100 rebate with 2-year contract). That isn't too out-of-line, considering the
Storm 2 will be $179
and the
HTC Imagio
is $199.
Motorola Droid A855 Preliminary Specifications
source:
BGR
,
YouTube
, and
Phandroid