YouTube also scores Stories, just like all the cool kids in school
1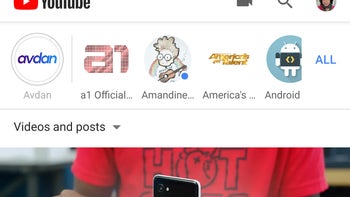 Because all the cool kids are doing it and Google wants to be as hip and relevant as possible, select lucky users seem to have scored social Stories in YouTube on both iOS and Android.
In what seems to be a server-wide arrival of the new feature, a slew of users can post and view short video stories that appear at the very top of the YouTube app's regular feed and are among the first things you'd see upon opening it.

It also looks like that Google hasn't really amped up its creativity when it comes to the appearance of its own rendition of this Stories fad - the UI looks extremely similar to Instagram's take on Stories, which could be attributed to either Google aiming to appear welcoming to the regular user or outright being lazy in the design department. Let's be real though - when has Google ever done the latter?
Kind of a fair game to YouTube since Instagram kind of expressed its desire to become a direct rival alongside the launch of IGTV, the app's own un-monetized video-sharing functionality which allows users to share videos of up to an hour of duration.
Now, if you open up your YouTube app and still don't see the Stories feed at the top, don't fret - you're probably getting these sooner than later, most likely in the next days or weeks in the earliest. Of course, that's only a given should Google choose to keep these around.