You tell us: Which smartphone are you most excited about?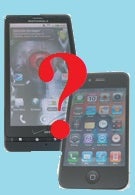 We at PhoneArena are always looking for feedback from you, our readers. So this week we are starting a new series called "You tell us", where we will post a question, along with some information, and ask for your feedback. This week's topic is "Which smartphone are you most excited about?" It could be a current model from one of the carriers listed below, an upcoming model that isn't out yet, or even one that you've had for a while and don't want to give up. So without further ado...
AT&T
:
Nowadays, when most people think 'AT&T' they also think 'iPhone', as the two seem to go together like peanut butter and jelly. Even though the Apple iPhone brand has been around for a few years now, the new
iPhone 4
is what has most people's attention, with it's more sophisticated appearence and premium materials being used, as well as the impressive hardware with the Retina Display and speedy performance. But you can't talk about the iPhone without mentioning its software, as iOS is one of the easiest and most user-friendly out there.
Another recent addition to AT&T is their
Samsung Captivate
, part of the Galaxy S line, which is an Android based smartphone. As most of you know, the Android platform has really taken off this past year, so it's nice to see AT&T carry this device. Its main attraction is the 4" Super AMOLED display with WVGA resolution that shows images with true-to-life color and excellent contract. The Captivate also has a fast 1GHz Hummingbird processor and a 5MP camera, which makes it a nice multimedia device.
The
BlackBerry Torch 9800
is a new design for BlackBerry, as it offers a 3.2" touch display and a sliding QWERTY keyboard, but also is one of the first to run on the updated BlackBerry OS6 platform.
Sprint
:
This year, Sprint became the first carrier to offer a 4G WiMax network and phones to the US public. Even though their 4G network is still spotty, it is continuing to grow. The first 4G phone avaliable from Sprint was the
HTC EVO 4G
, which runs on Android and HTC's popular SenseUI interface. At its introduction, the EVO 4G was also one of the first smartphones to come with a large 4.3" WVGA display, which is a nice size to watch movies on, but also features a 1GHz Snapdragon processor and an 8MP camera.
The second 4G smartphone for Sprint is the
Samsung Epic 4G
, which is another Galaxy S phone, as it has the same 4" Super AMOLED display and 1GHz hummingbird processor, but the Epic 4G also adds to it a sliding QWERTY keyboard for those who don't like using an on-screen keyboard.
For the business travelers out there, there is the
BlackBerry Bold 9650
, which can operate on Sprints 3G network in the US, and GSM networks while in other countries. The Bold 9650 comes with a 2.4" QVGA display and 3.2MP camera, but it's best features are the QWERTY keyboard and the BlackBerry OS, that offers easy email set-up and BES capabilities.
T-Mobile
:
Those of you who are Windows Mobile fans there is the
HTC HD2
, with its large 4.3" WVGA display, slim design, and 5MP camera. It runs on Windows Mobile 6.5 Professional and utilizes a 1GHz processor. The HD2 is no doubt one of the best - last WinMo devices before Windows Phone 7 comes out.
For Android lovers, there is the
Samsung Vibrant
, another Galaxy S phone, with 4" Super AMOLED display, 1GHz hummingbird processor, and 5MP camera - running on Android
2.1
.
Another Android device is the compact
Motorola CHARM
, as it comes with a full QWERTY keyboard, 2.8" display, and 3MP camera.
Verizon Wireless
:
For Verizon, their main driving force is "Droid Does" and the
Motorola DROID X
is one of their top smartphones, coming with a large 4.3" WVGA display, 1GHz processor, 8MP camera and HDMI video out. There is also the
Motorola DROID 2
, which replaces the original
DROID
from last year, coming with Android 2.2 Froyo and an updated QWERTY keyboard.
But one of the newest Android devices for the carrier is the
Samsung Fascinate
, the 4th Galaxy S phone, so the specs still remain pretty much the same, with the 4" Super AMOLED display, 5MP camera and 1GHz hummingbird processor.
A choice for the international traveler is the
LG Fathom
, as it is a Windows Mobile 6.5 Professional smartphone and can also work on CDMA and GSM networks. One of its main advantages is its full QWERTY keyboard that slides out from under its 3.2" WVGA display.
------------------------------------------------------------------------
So are you excited about buying any of these models listed above, or is there another smartphone that has you jumping up and down? Maybe you are waiting for whatever the 'next' Android phone will be, or perhaps you are thinking about giving Windows Phone 7 a try?
Whichever smartphone has you excited, please tell us in the comment section below!
------------------------------------------------------------------------
Resources:
Apple iPhone 4 Review
|
Specifications
Samsung Captivate Review
|
Specifications
BlackBerry Torch 9800 Review
|
Specifications
HTC EVO 4G Review
|
Specifications
Samsung Epic 4G Review
|
Specifications
BlackBerry Bold 9650 Review
|
Specifications
HTC HD2 Review
|
Specifications
Samsung Vibrant Review
|
Specifications
Motorola CHARM Review
|
Specifications
Motorola DROID X Review
|
Specifications
Motorola DROID 2 Review
|
Specifications
Samsung Fascinate Review
|
Specifications
LG Fathom Review
|
Specifications