These Galaxy S9 and S9+ price leaks could make you grab the pitchforks
33
Excuse my shitty danish/norwegian: The Galaxy S9 (64GB) will cost 8790 NOK in Norway, Galaxy S9+ (64GB) will be 9790 NOK. Launching in Midnight Black, Coral Blue and Lilac Purple (in Norway). Pricing is up 1200/1300 NOK compared to S8/S8+. https://t.co/Lapgi5Kla2

— Roland Quandt (@rquandt) 18 февруари 2018 г.
When we do our usual trip around the world to
compare iPhone prices
, it's usually Italy and Norway that pop up on our radar as the most expensive places to buy flagship smartphones. Well, save for the outlier Brazil, where an iPhone costs more than twice what it costs in the US, but there are other forces in play there, so let's focus on the great country of Norway - a rich Scandinavian oil producer and such.
Currently, the
iPhone X
costs the equivalent of $1410 in local currency there, so you can imagine our lack of surprise when the prices of the
Galaxy S9
and
S9+
in Norway leaked out, and they border on outrageous. As you can see from Roland Quandt's tweet above, the S9 will go for 8790 Norwegian krone, or about $1128 at the current exchange rate.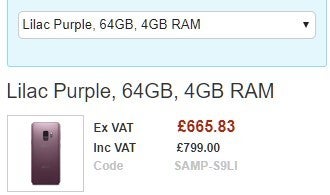 The same is true for the UK, where Clove, a local e-tailer is listing the the S9 at £799, based on a "
cost pricing from a trusted supplier, with an industry standard margin
." That's still $1120 in USD, or awfully close to the Norwegian leak.
The S9+ will land at 9790 NOK, or $1256, but don't grab the pitchforks just yet - as you can see from the comparison table we did for the iPhone X prices globally, top phones usually cost way more in Norway than in the US, and the S9 will probably follow the same fate: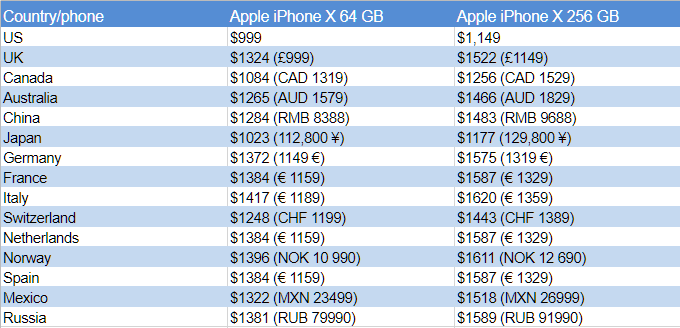 Roland also gives us last year's
Galaxy S8
/
S8+
prices for comparison, and the difference is the equivalent of $150/$167 in "favor" of the S9 and S9+, so the rumors that Samsung's new phones will come at least
$100 more expensive
than the previous edition at their open in the US, may have some merit, after all.