Apple iPhone X price and release date
50

Ming-Chi Kuo, the reputed Apple analyst, was one of the first who predicted that the
iPhone X
will land with a startling $1000 starting tag, then the New York Times reiterated it, while other sources rehashed the story, sending us weeping into a corner. The claims that the basic 64GB iPhone X will run you $999, but if you want to hang out with the cool kids that rock the 256 GB version, you'd have to shell out $1149, turned out to be true.
Well, it is not hard to guess why the iPhone X is more expensive than the upgraded versions of the 7 and 7 Plus, given that the cost of producing it will be 50%-60% higher than that of the regular models. After all, we calculated that just the flexible OLED panels that Apple has reportedly ordered from Samsung,
cost $70 apiece
, as opposed to less than $40 for the LCD on the current iPhone 7. The
Galaxy S8
,
LG V30
and the
Note 8
also came with higher tags than their predecessors this year, but that's apparently the price to pay for the "all-screen," "bezel-less" trend in 2017.
Release date
The iPhone X can be preordered from Apple, the carriers or various third-party shops starting
October 27
, with a release to follow shortly, on
November 3
, in the following countries:
Andorra, Australia, Austria, Bahrain, Belgium, Bulgaria, Canada, China, Croatia, Cyprus, Czech Republic, Denmark, Estonia, Finland, France, Germany, Greece, Greenland, Guernsey, Hong Kong, Hungary, Iceland, India, Ireland, Isle of Man, Italy, Japan, Jersey, Kuwait, Latvia, Liechtenstein, Lithuania, Luxembourg, Malta, Mexico, Monaco, Netherlands, New Zealand, Norway, Poland, Portugal, Puerto Rico, Qatar, Romania, Russia, Saudi Arabia, Singapore, Slovakia, Slovenia, Spain, Sweden, Switzerland, Taiwan, UAE, the UK, the US and US Virgin Islands.
Release time
Apple will start accepting iPhone X preorders on October 27, which is this Friday. You'll have to be up in the middle of the night in order to place yours, as preorders begin after midnight Eastern time. Here are the exact iPhone X preorder times depending on where in the US you live: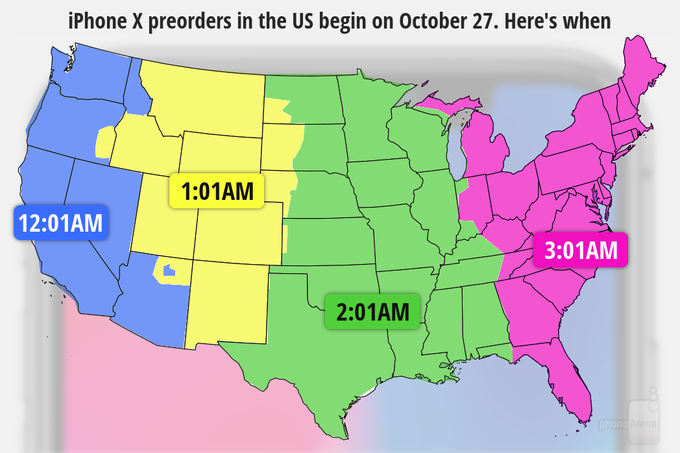 Prices
Looks like all those
delay rumors
turned out credible in the end. As for the pricing on US carriers and abroad, check out the gist below - all installment breakdowns are for a 24-month payment plan, save for AT&T which offers 30 months.
| | Sprint | Verizon | AT&T | T-Mobile |
| --- | --- | --- | --- | --- |
| Apple iPhone X 64 GB | $999 or $49.91/mo | $999 or $49.91/mo | $999 or $33.34/mo for 30 months | $999 or $49.91/mo |
| Apple iPhone X 256 GB | $1149 $56.16/mo. | $1149 $56.16/mo. | $1149 $38.3/mo. for 30 months | $1149 $56.16/mo. |


After
Sprint
and
T-Mobile
started the
iPhone X
incentives bidding, Verizon was quick on the trigger to follow, and is now offering its own promo for Apple's most anticipated phone in years. Being Verizon, the offer is merely a trade-in for customers on unlimited plans, who would receive up to $300 discount from the price of Apple's latest and greatest if they return their old phone in good condition.
One would think that this is an offer created specifically for the iPhone X, but, this time, carrier analysts will be pleased to hear that there will be no twofers or crazy promos like last year when the
iPhone 7
came out, so the carriers' bottom line will remain intact.
Verizon is not budging to issue a more generous promo for the iPhone X than its standard trade-in which would give you $300 for a, say,
iPhone 6S
or an
LG G6
, but it's certainly better than nothing, and you save yourself some hassles when
selling your old phone for more money
. Here are the phones you can trade in for an X, and the amount you will get from Big Red in return.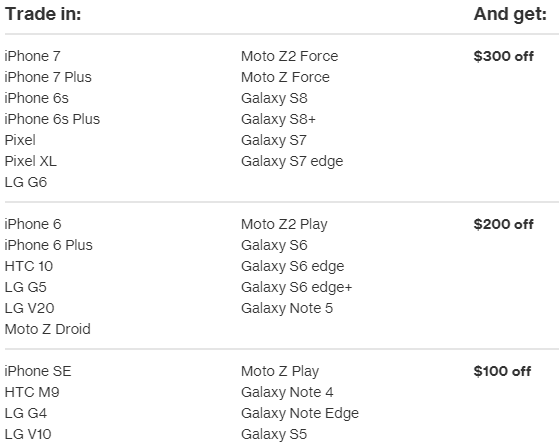 The boys in blue have no immediate trade-in offer for the new iPhone other than the standard one which will fetch you about the same $300 for an iPhone 7 swap as on Verizon, but AT&T does have the Next installment plan that lets you pay off for 30 months. The iPhone X, for instance, will run you $33 a month this way, while the iPhone 8 will be just $23. Needless to say, this requires good credit so that no money is given upfront, and you are still on the hook for activation fee and sales tax.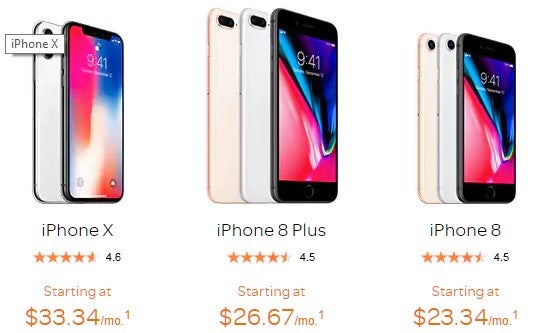 Just like with the iPhone 7, T-Mobile didn't hesitate to pull the trigger, introducing a $300 discount for the new iPhone 8, 8 Plus and X phones, as long as you trade in at least an iPhone 6 in good condition. For comparison, AT&T's trade-in offer for a 32 GB iPhone 7 is sub-$300 at the moment, while an iPhone 6 trade-in at Verizon brings $200 towards the purchase of the new iPhones.
Since the iPhone X's price starts at $999, any discounts would help make it a better deal. Sprint announced today its iPhone X promotional deal, which allows customers to save up to $350 when they buy Apple's upcoming flagship. This is Sprint's standard trade-in offer, so don't jump from joy just yet.
The deal is only available through Sprint Flex leasing and implies customers to trade in their old smartphone for the iPhone X. The following devices are eligible for the deal: iPhone 7 and 7 Plus, iPhone 6S and 6S Plus, iPhone 6 and 6 Plus, Samsung Galaxy S8 and S8+, S7and S7 edge, Note 5, LG G5, G6, and V20, Google Pixel and Pixel XL, Moto Z Droid, Z Play, Z2 Force, Z Force Droid, and Z2 Play, BlackBerry Keyone, and HTC U11.
Sprint offers a $350 discount on the iPhone X if you trade in your old smartphone. If you're willing to trade one of the smartphones listed above, then you will be able to get the iPhone X for $22.22 per month as part of an 18-month leasing program. If you decide to keep the phone, then your monthly payments will increase to $41.62 for another six months. However, if you do want to trade in your iPhone X for another lease at the end of the 18-month program, then you can do so without having to pay increased monthly payments. At the end of the day, you should be paying around $650 for the iPhone X instead of nearly $1,000. One last thing worth mentioning is the deal will be available for new and existing Sprint customers.
As if to solidify the good first impressions by its foray into mobile, Xfinity is gearing up to offer none other than the
iPhone X
, and with the
sweetest deal on Apple's greatest
so far to boot.
Starting this Friday, October 27th, when the
iPhone X preorders go live
, new Xfinity customers who switch and sign up for the triple package with Internet, TV and a mobile subscription plan will get a whopping $500 gift card to ease the pain of transitioning. The deal will run from now until December 3, and, given that the Triple Play packages start off at $89.99, is pretty good if you are up for a contract renewal with your cable provider. Comcast's mobile data plans are "By the Gig" at $12/GB, so you only pay what you use, or you can go "unlimited" for $45/month (deprioritization kicks in after 20 GB).
You need to sign up for a two-year cable contract, purchase a handset - in this case the iPhone X - and port your existing number, then Xfinity will mail a $500 Visa Debit card to your subscription address. Sweet, and the
best deal on an iPhone X
we've encountered so far, especially if you were planning to swap providers anyway. Needless to say, you can also trade in your old iPhone, and, after its appraisal at an Xfinity store, tack the money you will get for it onto the cost of the iPhone X, too, so you might end up getting Apple's finest for just two or three Benjamins, depending on what you trade for it.
Europe, Asia, the Americas and Australia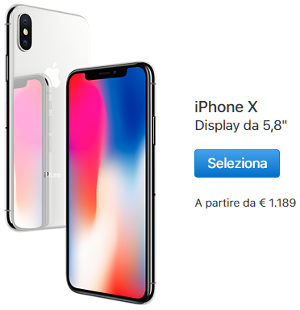 And the winner is... as you can see, iPhone pricing abroad is way, way worse than the domestic tags due to various import duties and taxes levied on Apple there. Europe is especially hard hit with its twenty percent or so customs duty on consumer electronics from abroad, and it's traditionally Italy and Norway that carry the highest iPhone prices there. That is why an iPhone X 64 GB will cost 40% more in Italy than in the US, and we can only imagine how much it will be in Brazil when those prices come in - it is notorious for the most expensive Apple gear anywhere.