You can now pre-order the OnePlus 3T with 128GB of storage for $479
15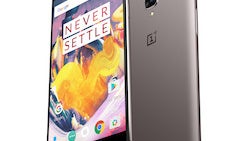 If you're in the market for one of the best phones that costs less than $500, few handsets will offer you as good of an experience as what you'll get with the OnePlus 3T. Although the company recently went under some fire for
juking the stats on performance benchmark tests for the phone
, the 3T itself is still a very commendable product. Up until this point, you've only had the option of purchasing the phone with 64GB of onboard storage. That's a good chunk of space for storing all of your apps, games, photos, and more, but if you're someone that still hasn't jumped on the cloud bandwagon, that 64GB may not sound like quite enough for you.
Lucky for you, local storage hog, OnePlus has just opened up pre-orders on the 128GB variant of the 3T. The 128GB model is only available in the Gunmetal color option and not the fancy
Soft Gold duds that just went on sale a couple of days ago
, but even with this being the case, it's still great to finally have the option made available. The OnePlus website currently shows that the 128GB variant of the 3T will ship within 11 days of purchasing it, and while that's definitely a lot longer than the
immediate shipping that is being offered for the 64GB flavor
, our guess is that the higher storage option will get that same treatment as time goes on.
The 128GB OnePlus 3T costs $479 - $40 more than the 64GB model
In addition to the massive amount of local space for keeping all of your content, the OnePlus 3T also offers the Snadragon 821 processor, 6GB of RAM, 3,400 mAh battery with Dash Charge support, 5.5-inch 1080p Full HD Super AMOLED display, and lot more. The 128GB 3T will set you back $479, making it just $40 more than the 64GB model. Not everyone will need that much space, but if you think you're someone who will, a $40 premium is very reasonable.
Recommended Stories