You can now order a $1 million Lux iPhone 7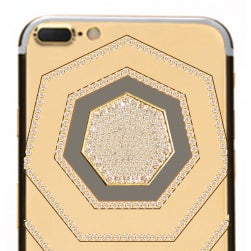 Once Apple releases its
new 2016 iPhone models
(most likely sometimes in September), plenty of current smartphone users will hurry up to upgrade their devices - even if the upcoming iPhones may not be too different from the
iPhone 6s
series. Naturally, this means that a lot of people will end up having exactly the same new phone as many others around them - unless they go for a super-expensive, customized iPhone like those created by Los Angeles-based company Brikk.
Weird enough, Brikk is already allowing interested folks to order what the company is calling the "Lux
iPhone 7
." The Lux iPhone 7 is actually a collection of upcoming iPhones, all modified by Brikk. Prices start at $4,995 for the Lux iPhone 7 Standard, and go up to a whopping $1.3 million for Lux iPhone 7 Bespoke Imperial models.
According to Brikk, each Lux iPhone 7 handset is disassembled, hand polished, plated with gold or platinum (depending on model), and then reassembled - all in Los Angeles. The Lux iPhone 7 Standard Collection includes 10 different color options and various diamond logo choices, the Deluxe Collection can be dressed in 24 carat yellow gold, 18 carat pink gold, or 950 platinum, while models from the Bespoke Collection are fully customizable - you can choose to make a Lux iPhone 7 Bespoke look however you want, and you get "up to 60 carats of diamonds" to decorate it with.
Since we're still over a month away before Apple officially announces its new 2016 iPhone line up, we assume that Brikk doesn't accurately know what the upcoming iPhones look like. The images that the company is using to present its luxurious variants of the iPhone 7 - seen below - are, most likely, based on the multitude of
leaked photos
that pretty much everyone has seen. Moreover, this year's iPhones
may not actually use the iPhone 7 name
, so Brikk seems to have acted in a rush here. The company even lists some of the specs that the next-gen iPhones allegedly have, including 3 GB of RAM, dual rear camera, A10 processor, and up to 256 GB of internal memory.
If you are interested in a Lux iPhone 7, Brikk says that it can start shipping orders in mid to late October, thus about one month after Apple releases the
normal
new iPhones. A deposit is required if you want to place an order right away. Any takers?
sources:
Brikk
,
Press release
via
MacRumors