YotaPhone, the smartphone with a second always-on e-ink screen, is now official
16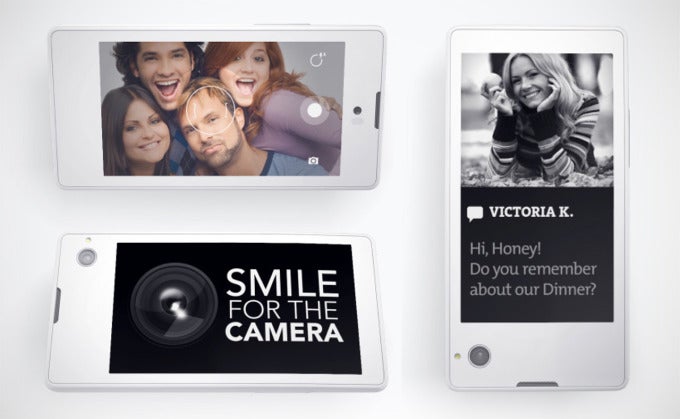 The YotaPhone, a unique device with an always-on e-ink display on its back in addition to a traditional LCD on the front, has - after months of development - finally become official. A product of Russian company Yota Devices, it is available for pre-order now in a number of European countries and it's gearing up for launch in as many as 20 markets by the end of the first quarter of 2014.
But what is the YotaPhone? The whole concept has been swirling around for around a year and that long time that it's been cooking has sadly made an impact on its inner guts that seem a bit lacking, but the main idea here circles around the second always-on battery-frugal e-ink display. Now, there is a 4.3" 720 x 1280 pixel LCD display on the front of the device and that sounds like a fairly common screen for a mid-range device. So are the 1.7GHz Qualcomm Snapdragon S4 dual-core chip, 2GB of RAM, and 1800mAh battery. The device also features a 13-megapixel camera.
What is not common, though, is the secondary e-ink always-on screen on the back of the device that also measures 4.3 inches in size. E-ink is a type of monochrome displays that is extremely battery efficient and perfectly readable even under direct sunlight, so it's great for use outdoors. YotaPhone puts it to good use - it refreshes automatically with your notifications and messages, and custom apps have been built so for instance you can see an always up-to-date Twitter stream on the back of the device. The back screen has a resolution of 360 x 640 pixels, supports 16 scales of grey and there is a capacitive touch zone below it for gesture controls. You can also easily send a book to read to the e-ink screen. Other content like images can also be easily beamed with a simple two-finger swipe from the top in a number of optimized apps.
It gets even more interesting as access to the e-ink display is open to developers via APIs that Yota Devices have developed.
It's hard to say what the future holds for the YotaPhone, and in the current reality of spec and camera wars, we've seen devices that innovate in different areas like the Moto X with its ergonomics and always-on voice breakthroughs struggle to get wider user adoption. The YotaPhone is that kind of device that falls out of the mainstream narrative and would likely end up being a niche device - at least that's what we'd expect - but it's still very refreshing to see some innovation directed in a completely different area such as the secondary e-ink display here.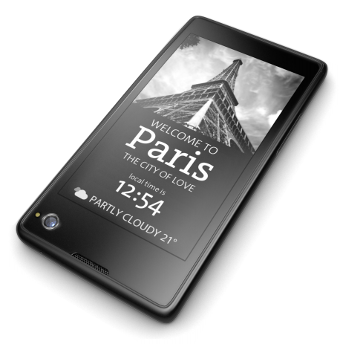 The YotaPhone is launching in its home market in Russia tomorrow with a starting price of 19,990 Russian rubles, and it will also come to Europe (Austria, France, Spain and Germany) at €499. Yota will further expand into Europe and the Middle East by end Q1 2014, but has not announced any plans to chase after the influential American and Asian markets. Hit the link right below for more information and to actually pre-order, if you like what you see.
Finally, right below is the YotaPhone unveiling event in its entirety and with the Q&A session that followed.
source:
CNET