Xperia XZ Vs iPhone, Galaxy S7 edge: selfie camera shootout
15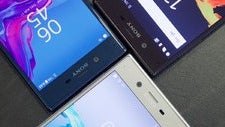 Be it to share a personal moment with others or to simply collect likes on Facebook and Instagram, we all take the occasional selfie once in a while. Pretty much everyone and their grandma knows well how to use their phone's front-facing cam, which explains why over a million self-portraits are shot each day. Phone makers are aware of that, to no surprise, and make sure their products snap great selfies in any situation.
Same applies to the Sony Xperia XZ, which takes advantage of a refined 13MP shooter. Features include higher sensitivity (up to ISO6400), image stabilization for videos, and gesture-triggered shutter for those tricky poses and dramatic angles.
How does it compare to its rivals, however? That's the question we wanted to answer, so we snapped a series of selfies with the Xperia XZ. Then we did the same with the iPhone 6s Plus and the Samsung Galaxy S7 edge. Alas, Taylor Swift wasn't available to assist us by posing for the shootout, but hey, we're not bad-looking either.
Anyway, here's what we got. In a nutshell, all selfies look share worthy, despite the non-optimal lighting conditions we encountered at Sony's booth. Some differences stand out, however. Viewing angle is one of them – while the iPhone 6s Plus has the narrowest, the Galaxy S7 edge has a really wide field of view, with the Xperia XZ holding the middle ground. We can't say that one's approach is totally better than the other. Wider lenses can fit more people into the frame, while narrower ones tend to produce less distortion. Image quality is more than satisfactory. We see that the iPhone's screen makes an excellent flash in low light environments, but in more favorable conditions, you could say that the Galaxy and the Xperia have the upper hand.