Deceiving: The real Xiaomi Mi Mix is not as "edgeless" as promo images want you to believe
81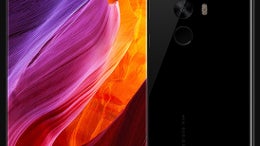 Officially announced earlier today
, the
Xiaomi Mi Mix
is one of the most interesting smartphones to ever come out of China, as it features a huge 6.4-inch display that occupies 91.3% of its front side.
While Xiaomi says that this is an "edgeless display", the phone's screen actually does have edges - it would be impossible not to. In fact, its edges are considerably thicker than seen in Xiaomi's promotional images, so the real device is not as breath-taking as the company may want customers to believe. Don't get us wrong, we do think that this is an impressive phone, but it's a shame that Xiaomi seemingly wants to deceive viewers with its Mi Mix promo material. To see what we're talking about, take a look at the images below, comparing Xiaomi's official renders to some hands-on photos of the Mi Mix.
Even if in reality it doesn't look quite like in promo images, the Xiaomi Mi Mix is a head turner. However, there's nothing really new about this design: Japan's Sharp has been making similar handsets for years now, and it even offered the
Aquos Crystal
in the US via Sprint back in 2014. Of course, the Aquos Crystal was a smaller (5-inch) mid-range phone, while the Xiaomi Mi Mix is a big, high-end device, so these are pretty different products after all.
In case you're wondering, the Xiaomi Mi Mix will likely be released only in China, where it's expected to hit shelves on November 4 for prices starting at around $520. Still, you may be able to unofficially import one in the US (for an extra fee). Let us know if you're thinking of getting this
edgeless yet not so edgeless
phone, will you?
sources:
Xiaomi
,
CNMO
,
ePrice
,
PCPop