XPERIA X2 may be the last Windows Mobile phone from Sony Ericsson?
This article contains unofficial information.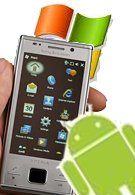 Say it ain't so! Windows Mobile fans around the world may cringe hearing about rumors that the XPERIA X2 may be the last phone from Sony Ericsson to use Microsoft's mobile operating system. We know how many manufacturers out there look to Windows Mobile powering their top of the line smartphones. Looking into Eldar Murtazin's Twitter page, from Mobile-review, he states that Sony Ericsson denied to support WM in the future with the X2 being possibly the last one to run it. So far it's just a rumor with no official word from Sony Ericsson about the matter. If there's any validity to these speculations, you need to look at some of their future devices like the Satio and XPERIA Rachael. The first one being powered by Symbian s60 and the other Android – both expected to be launched by the end of the year with no Windows Mobile on board.
Sony Ericsson XPERIA X2 Specifications
|
Preview
via
AfterDawn.com