Woz on Apple's patent war with Samsung: "I don't think the decision of California will hold. And I don't agree with it."
59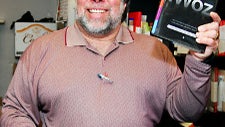 Steve Wozniak
is not only the co-founder of Apple and one of the most important people sculpting the computer as it is today, he is an avid user of all new technologies. He's been using all kinds of devices, not discriminating on the operating system and loving the new advancements in mobile, but while a lover of technology, there is one thing that Woz really hates.
If you guessed patents, you'd be absolutely right.
"I hate it,"
Wozniak replied to a question about the patent war raging between Apple and Samsung.
"I don't think the decision of California will hold. And I don't agree with it -- very small things I don't really call that innovative."
"I wish everybody would just agree to exchange all the patents and everybody can build the best forms they want to use everybody's technologies,"
Wozniak concluded. If there is one thing we love best about Wozniak, a man who's become a symbol for the early days of computing, is the spirit of freedom and his true infatuation with innovation, and not just blind following of one company.
Wozniak also commented on the new iPhone 5 saying he hopes it takes better pictures and noting that in it Apple took some important steps.


"I am always excited about every iPhone product because there are always good advances," Wozniak said in an interview. "A better quality on the pictures will mean a lot, because when I show people pictures on my iPhone 4 and my Galaxy S III, they always say the Galaxy S III, or even the Motorola Razr, pictures look better."
Wozniak did reserve his final judgment for until he gets to actually use the
iPhone 5
for some time. And that's a reasonable thing to do. Do you share his opinion about the patent war and the new iPhone?
source:
Bloomberg