Would you give up a few minutes of your time for free tickets to any movie?
13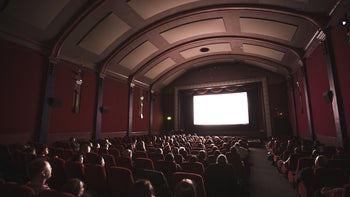 MoviePass,
which currently offers users unlimited movie tickets for a monthly subscription fee of $9.95
, has been a huge money loser. The stock of the app's parent company, Helios and Matheson Analytics Inc., is trading for 1.1 cents
after
a 1-120 reverse split last year. So when we read
a report from CNET
stating that company co-founder Stacy Spikes has another idea regarding mobile devices and movie tickets, you can understand why we might be a bit skeptical. However, Spikes left MoviePass eight years ago before Helios and Matheson bought the company and came up with the unlimited ticket plan that nearly drowned the business in a sea of red ink.
Spikes' new idea is called PreShow and instead of consumers paying a monthly subscription rate for movie ducats, the money for what has become pricey theater tickets would come from advertisers. All the consumer has to do is watch 15-20 minutes of advertising on an app and that would unlock free movie tickets to any film. But to make sure that you are watching the ads, the app will unlock only with the use of facial recognition. And if you decide to start an ad and walk away, your phone's front-facing camera will tattle on you and freeze the ad after five seconds. A green border that surrounds the ad shows that you are viewing it. If you turn your head, cover the screen or move away, the border turns red and the ad stops playing. During a demo of PreShow, Spikes used the front-facing camera on his
Apple iPhone 7
to unlock the app.
"We had two problems to solve: We didn't want people creating dummy accounts, and we're dealing with real currency at the end of the day, so we needed to uniquely lock it. Facial recognition at the phone level is just a year and a half old. You couldn't do this company two years ago."-Stacy Spikes, founder, MoviePass, PreShow
PreShow will have a private Beta in July, and there is no word yet on when the app will officially launch. But to allay fears about privacy, the entrepreneur says that the app will not record anyone watching the ads, and it won't share personal data with third party firms to sell to advertisers. However, it will give advertisers anonymous, aggregated data that comes from basic information that users provide when signing up for the service. Theater owners might ot

So the question is, would you intently view up to 20 minutes of ads on your phone in order to score free movie tickets? If enough people believe that it is worth it, PreShow has a chance to be a bigger force in the movie industry than MoviePass ever was.