World's smallest, most compact smartphones
19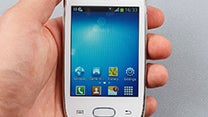 Remember how back in the days phone manufacturing was all about miniaturization? That's not surprising, considering that the
very first portable phones
were the size of a brick. But then smartphones came into fashion, and small no longer cut it. So much so, in fact, that in the years since, display sizes – the main determinant of device's physical footprint – have literally skyrocketed.
Have we had the opportunity to adapt?
Poll results
certainly suggest so – back in 2011, some 35% of respondents said that screen sizes under 3.99" are ideal, but that quickly dropped to a shockingly small, 1.19% of the total in 2014. One could argue that this is simply a consequence of some sort of confirmation bias, as the vast majority of us nowadays lug around a smartphone with a much larger display, yet that's an argument for another day.
So what about those poor souls that simply aren't comfortable with as gigantic screens and simply want something that was designed from the ground up to be usable with a single hand? Are they completely forgotten by manufacturers?
The reality is that they have been. Indeed, nowadays smartphones with displays under 3.5" are a rarity, and the few that are available are as basic as possible. Who are they? We rounded them up for you in case you've been looking for a compact-sized phone for your parents/grandparents, or are simply looking for a burner that you don't have to worry about.