How it all began: Check out major manufacturers' very first phone devices
32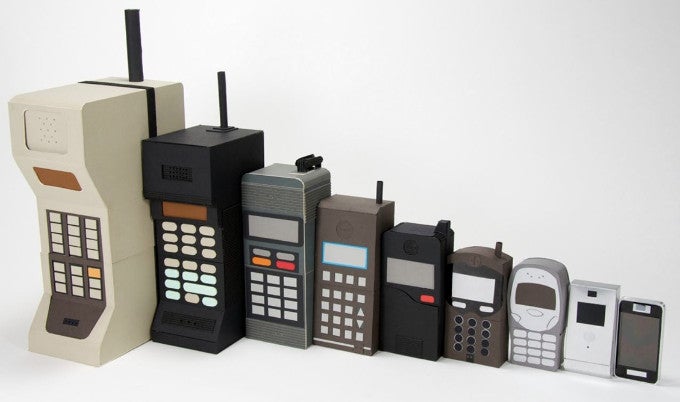 UPDATE: LG got back to us! The first phone it ever released was the LDP-200, check it out below.
Not all of us were around when the portable telephony revolution took place back in the 80s and the 90s, and even if some of us were, there are no guarantees we were old enough to actually appreciate the game changer that it was.
Given enough time, high tech hardware can sometimes morph into the most unexpected things and serve entirely different functions, with just a tiny leftover of what brought said innovation to the forefront of consumers' minds in the first place. That categorization definitely applies to cell phones and, subsequently, smartphones.
Indeed, what started out as a device that gave us the means to communicate over great distances on the go is now much more about the design, hardware muscle, and the app ecosystem, not telephony. But, at the end of day, we still do calls.
If you ever wondered which device is the ancestor to your fancy new smartphone from any of the major manufacturers, then you came to the right place. It's time to follow your current device's family tree and trace its original point of origin!
Motorola
The very first actually portable cell phone was developed and manufactured by Motorola. The DynaTAC 8000x, also known as the brick phone, was made commercially available in 1984, but prototypes and earlier versions of the device were in existence as early as 1974. Why "brick"? Because of its brick-sized body, of course.
Jokes aside, the original DynaTAC, as unwieldy as it may look today, was considered a true revolution at the time. Motorola went on to release a number of successive models based on it (thankfully, size went down), and continued selling under the DynaTAC name until 1994.
At launch, the DynaTAC 8000x cost just short of $4,000 and offered 30 minutes of talk time and about 8 hours of standby time, had an LED display, and could hold up to 30 phone numbers. And you thought iPhones are expensive!
Nokia
The Nokia that we know no longer exists, and that's all the more saddening considering its pioneering role in the mobile industry. Its first ever portable cell phone was the Mobira Senator, released in 1982, and ran on a 1st-generation (1G) analog network.
Unlike the DynaTAC, we're unaware of any nicknames for the Senator, but at 22 lb (9.8 kg), it weighed more than a bowling ball, so there's one possibility. Still,
it
was portable, and
it
was Nokia's first ever commercially-available phone, so it checks both boxes.
Samsung
The first ever truly mobile cellular phone from Samsung was the SH-100. It went on sale in South Korea in 1988, 3 years after the electronics giant attacked (unsuccessfully) the market with the SC-1000 (pictured below), which was only partially portable in that it was designed for use in cars.
From what we know, the Samsung SH-100 sold in very small numbers – between 1,000 and 2,000 – but that was obviously enough to convince Samsung to continue investing in the field. Of course, you should also keep in mind that demand for a just-emerging technology that cost a small fortune was quite limited in comparison with what we have today.
Check out the great-great-grandfather of your Samsung Galaxy Note 4 below.
Sony
Digging for Sony's first ever portable cell phone proved to be a difficult task since, as we were later informed by the folks over at Sony's PR department, the Sony Mobile daughter company that produces your current Xperia phone didn't even exist back then. We were instead referred to Sony Electronics, and found that our initial guess – the Sony CM-H333 – was, indeed, the first commercially available Sony phone.
While we couldn't find any relevant pricing info, we do know that the CM-H333 first attacked the market in 1992, which explains its relatively smaller physical size.
LG
Of all the devices on the list, LG's very first handheld portable mobile phone was the hardest to identify and find. The situation here is very much alike to that with Sony's – LG Electronics, the company that made your G3, didn't even do phones two decades ago. Instead, it was LG Information and Communication (LGIC, seen on the top left hand side) that produced the first LG-branded phone, the LDP-200, in the distant 1996.
Finding high quality images of the LDP-200 proved impossible, however, so we had to make do with what was available.
HTC
Released back in 2002, the HTC Wallaby, also known as the O2 XDA, was the company's first phone ever built. By 2002, phones had gotten much more sophisticated, so after the initial shock from the DynaTAC, you'll find that HTC's little pioneer is far more manageable.
The Wallaby ran on the Microsoft Pocket PC 2002 Phone Edition and cost £899 at the time (about $1370 today). It featured a 3.5-inch, 240 x 320 pixel resolution display, a single-core Intel processor clocked at 206MHz, 32MB of RAM, and 32MB of internal storage.
RIM
While the BlackBerry 850 was RIM's very first device made (e-mail and limited browsing only), it wasn't until the BlackBerry 5810 that the company entered the phone market.
The 5810 was released in 2002 and needed a headset in order to actually call people, since it didn't feature a built-in speaker. The BlackBerry 5810 had access to e-mail, did SMS messaging, could browse the Web (slowly), had an organizer, and many others.
Huawei
Since we weren't positive, we reached out to Huawei and inquired about their first ever mobile phone device. As it turns out, it is no other than the 3G-enabled U626 – a clamshell-type phone with 2.4-inch TFT display with a resolution of 240 x 320 pixels.
The Huawei U626 saw its launch in June of 2005 and immediately went on to win Charlton Media Group's award for 'Best 3G Smartphone'.
Apple
Released in the middle of 2007, Apple's first (smart)phone – dubbed only iPhone – took the industry and the world by storm and finally settled and the age-old argument on what the best form factor for a smartphone is. As you now know, phones with QWERTY keyboards lost and touch won.
The original iPhone had a 3.5-inch LCD display with a resolution of 320 x 480 pixels, a single-core processor ticking at 412MHz, 128MB of RAM, a 2-megapixel rear camera, and a 1,400 mAh battery. If you're feeling adventurous, you could head over to
our review of the first iPhone from 2007
.
Xiaomi
Xiaomi only entered the limelight recently, but it has since become a respectable competitor to even well-established, mainstream brands like Samsung. While Xiaomi first started out by developing the custom MIUI Android ROM that runs on all its devices, it didn't take long for the company to realize that it could enter the hardware business.
And it did, with the Xiaomi Mi-1. Released in October of 2011, the Mi-1 cost only about $300 and offered high-end specs such as a 4-inch display with 480 x 854 pixels, a dual-core Snapdragon S3 processor, 1GB of RAM, and an 8-megapixel rear camera.
Recommended Stories