World's new thinnest phone makes even the slim iPhone 5 look brick thick (pictures)
23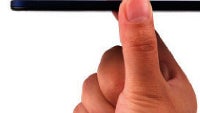 You might have never heard about Chinese phone maker BBK, but it is preparing to release the world's new thinnest device, the Vivo X3. The BBK Vivo X3 is slimmer than the iPhone 5, the Samsung Galaxy S4 and even the previous record holder, the Huawei Ascend P6.
The first images of the BBK Vivo X3 have leaked out and the devices pictured alongside look noticeably thicker.
The X3 is the first phone to break the 6mm (0.236 inches) thickness barrier, beating the already super slim 6.18mm Ascend P6 and the 6.1mm iPod touch 5th gen.
It's not just that - BBK takes pride in delivering great high-fidelity sound and the Vivo X3 is no exception. It will also be more expensive than your usual smartphone from China, but it should be well worth it. The Vivo X3 is expected to launch in August.
You can see the drastic difference with existing smartphones right below.
source:
Weibo