With "money tight," 25% of Pebble's work force gets axed
17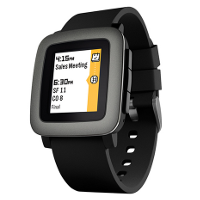 On Monday, Apple CEO Tim Cook told those watching Apple's new product announcements that
the Apple Watch was the top selling smartwatch in the world
. That could explain why Pebble is laying off 25% off its staff this week. That works out to 40 employees receiving pink slips. The company first found fame and fortune by running a very successful Kickstarter campaign
not once
,
but twice
.
The issue, according to Pebble CEO Eric Migicovsky, is the lack of funding. The executive says that venture capitalists are being tighter with their money. This comes after Pebble raised $26 million over the last 8 months, and sold $20 million in watches over Kickstarter since February 2015. A joint venture with Amazon to sell Pebble watches in India will start next month, and could help bring in some much needed cash.
Migicovsky says that Pebble has discovered that its customers want to use Pebble timepieces for tracking their health. As a result, the company will focus on the health and fitness capabilities of its watches.
One major worry for Pebble is Apple's $50 price cut on the Apple Watch, which was announced Monday. With the Apple Watch now starting at $299, there is only a $49 difference between that and the $250 top of Pebble's price range.
source:
TechInsider
via
Pocketlint