Pebble smartwatch project raises $3 million on Kickstarter, get yours while it's hot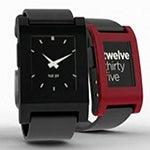 We reported
last week
on Pebble, the E-Paper watch that can sync with your Android or iOS device. At the time it had raised over $100,000 in just two hours, hitting their target for fund-raising in record time. That was four days ago; after additional press coverage (we can't take
all
the credit…) and a strong viral web presence Pebble has now raised more than $3 million dollars – and there's still 32 days to go!
Due to the extra backing, the Pebble project has announced the watch will now be fully water resistant, so you won't have to take it off when you shower or hit the pool to do some laps. The watch pairs with your phone via Bluetooth, and will alert you to incoming calls and messages from your phone, let you control your music, and have a host of apps for joggers, golfers…heck, check out the video below if you want a glimpse at what it can do.
Thanks to the E-Paper display the time is always displayed, and the watch should last up to a week on a single charge. In many ways it's already well ahead of competing
smartwatches
, and during the Kickstarter fundraising period you can get one yourself for $115 dollars, which seems like a steal compared to what
Sony
and
Motorola
charge for similar products.
source:
Pebble
via
Droid-Life