With Tap to Translate, Google Translate now works within other apps
8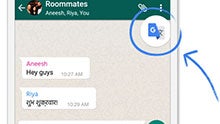 Google Translate helps users around the globe communicate with each other by offering tools capable of deciphering text, voice, and even photos of language written in a foreign tongue. And for all the app already does, late last year we got word that it was about to become even better, as Google gave it the ability to
work its translation magic directly within other apps
. Now not only is that feature finally ready to go live, but it's debuting alongside a couple other major Google Translate tweaks.
The new Tap to Translate mode integrates with Android's clipboard; simply copy foreign-language text to see the translation pop up right there in your current app – no swapping back and forth to Google Translate.
The feature works with across all languages the app supports, and Google's quick to point out that it also supports offline mode. Which, as luck would have it, brings us to our next big tidbit of Google Translate news: offline mode has arrived for iOS.
Now both iPhone and iPad users can download small language packs in order to keep translations going even where data connections are less than reliable. Only about
half of the total number of languages supported by Google Translate are available with offline translations
, but that still represents several dozen.
Finally, Google's expanded its
real-time Word Lens feature
to now support Chinese; simply point Google Translate's camera at a sign or other printed text, and it will swap out any Chinese words it detects.
Updates containing all these features start heading out this week.
source:
Google