Google Translate cuts its teeth on live translation, update rolling out now on Android and iOS
4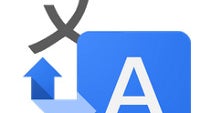 Well, that was quick - just a few days ago we heard that the Google Translate app might score a live translation feature and it seems that the rumors were true. The app is now being updated with a couple of new features in question, and guess what, these will arrive on both the Android and iOS variations of Google Translate.
Naturally, the Word Lens live translation feature is the highlight of the app update. It's quite similar to Google's Goggles app, to be honest - open the app, point your device's camera towards a given text, and it will translate it to one of the supported languages. What's more, the simultaneous translation will appear as an overlay over the original text. Currently, French, German, Italian, Portuguese, Russian, and Spanish are supported - you can translate to and from all of these into English.
Another improved feature of the app now is the speech recognition and live translation feature. It now allows you to simply tap the mic icon and speak in whichever of the supported languages you desire, the app will automatically identify it and translate to another one of your choice. The icing of the cake is that you won't have to tap the mic icon for the rest of the conversation. This allows you to have more fluid conversations with a stranger, for example.
It will probably take a bit before your device receives the update for Google Translate. Fret not, it will surely arrive.