Windows head Steven Sinofsky might have been fired, not leaving voluntarily
14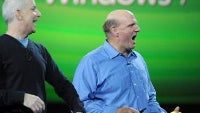 The announcement that
Steven Sinofsky, the head of Windows, left Microsoft
came as a shocking surprise for the industry. Mere days after the release of Windows 8 and the Microsoft Surface, two of the biggest products Microsoft has ever released, Sinofsky, the brain behind the two, abandoned the company. Or was he pushed out of there?
The official story is that Sinofsky decided to leave Microsoft, but many have expressed doubt at such an abrupt move with no back story. And now ExtremeTech joins in with its sources adding fuel to such a fiery possibility. The publication says that Sinofsky and his team were also surprised, which basically means that the other Steve had had enough.
Steve Ballmer might have fired Sinofsky for a number of reasons. You've probably already heard the story of the Windows head being a drag for teamwork. Not just that, he was also arrogant and many sources have republished a story where instead of giving a presentation on Windows features he just tossed a link to his blog to an audience full of Microsoft engineers, took questions and left.
That pretty much summarizes all the negative about him. On the flipside of things, he was punctual. So punctual people described him as being able to
"make the trains run on time."
Sinofsky was the man who fixed the Vista mess with Windows 7.
That is the kind of executive Microsoft lost. As a consequence, Ballmer might be hoping to get a stronger focus on the touch and mobile side of Windows. Sinofsky for once might have had a chance to get Microsoft early on the tablet and touch side of things with Windows 7, but he did not. Whispers crawling around the web also attribute the death of the Microsoft Courier tablet to Sinofsky.
Not all of this has to be true, even if just a fraction of it was, that seems to have been enough to tip the patience of Steve Ballmer. And we know he does not have a lot of it. Does something in Sinofsky's departure smell fishy, do you agree that he could have been fired and not leave voluntarily?
source:
ExtremeTech