Windows Phone Mango update now available to all first-gen WP handsets
4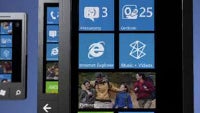 Windows Phone Mango brings more than 500 new features, but up until now it only brought it to some first-gen WP devices. That's no longer the case - Microsoft has fulfilled its promise and now the Windows Phone 7.5 update is available to all previous WP7 handsets:
"We're now delivering Mango to 100 percent of eligible phones around the world, regardless of carrier. (In other words, to everything that's not listed as "scheduling" or "testing" on Where's My Phone Update?)," Microsoft's Eric Hautala, General Manager of Customer Experience Engineering said in a post on the Windows Phone blog.
In the meanwhile, you can also see a firmware update pending. That's a separate deal, but it's pushed at the same time and will bring improved performance, fixed bugs and new features if your phone supports them.
"We're also sending out "firmware" updates to some phones around the world, so don't be surprised if you see another update notification pop up on your phone in the coming days. … Not everybody will receive or require a firmware update: It all depends on your country, carrier, and phone model," Hautala added.
Have you already updated and how do you like the Windows Phone in its Mango flavor?