Windows Phone App Hub updated to allow beta releases
2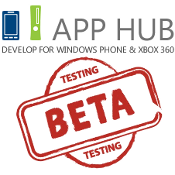 Yesterday, Microsoft's App Hub went down for maintenance, and when it came back online it had some nifty new features for Windows Phone 7 and Xbox developers. The site now allows devs new report view options, and payout history view options, as well as options to see how often your app has crashed.
On top of those improvements, Microsoft added a new app submission screen with an option for distributing beta apps. A beta Marketplace has been rumored for WP7, and it looks like it's finally coming to pass. Early reports say the beta Marketplace may not require certification, or may just have lower certification standards. Beta apps will be private and only accessible through Zune links, which means it seems likely that the WP7 Web Marketplace may be coming sooner rather than later.
This seems like a win all around. Devs get better early feedback in order to make better apps. And, those of us obsessed with being the first to try new things will now have official channels to get at WP7 app betas.