Windows Phone 8 just 19% of WP ecosystem, if we believe the numbers
12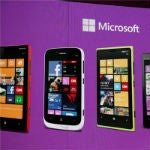 We're not the biggest fans of statistics pulled from ad networks, because there's always something off with the numbers, but unfortunately, it's hard to get numbers otherwise. Still, if the numbers are even close to true, AdDuplex has found out some interesting things about the Windows Phone ecosystem, including that even though Windows Phone 8 only holds 19% of the WP ecosystem, Windows Phone usage overall is on the rise.
We saw the initial report from AdDuplex yesterday, which showed that in the US
43% of Windows Phone
devices were WP8, and now the numbers are getting fleshed out some more. Of course, it has to be mentioned that these numbers are based on data gathered by the AdDuplex ad network, which is cross-platform, but only covers
215 apps in the Windows Phone Store, and all of the data collected came from just one day
- January 3rd, 2013. Additionally, AdDuplex makes the disclaimer that no professional statistician was part of this process. So, it's really on you as to how much faith to put in this data. The data does seem pretty comprehensive, but it could easily just be meaningless percentages and an abundance of charts.
According to the data gathered, although 43% of Windows Phone handsets in the US are WP8, when you go worldwide, that number drops quite a bit to just 19% of WP devices worldwide being WP8. This shouldn't really be surprising, since WP8 has only been on the market for 2 months, less in some regions, and there was no option to update WP7 devices to the new OS. What's even more odd is that according to the data showed yesterday, 43% of Windows Phones in the US are WP8, but on the device breakdown,
the only WP8 devices listed are the Lumia 920 and HTC 8X, but they make up just 27% of the US device chart
. Even adding in the entire "other" section of the chart would only make WP8 42%, and it seems unlikely that every single "other" device is WP8.
There are a lot more numbers from countries around the world, and breakdowns of AT&T devices here in the states, but we'll leave that in the slideshow, or you can hit the source for more. It seems true that WP8 is making a push, and there's every reason to believe that Nokia is leading the way in the ecosystem, but if these numbers are right, it looks like a US-only type of thing right now.