Windows Phone 7 Marketplace for mobile hits its first milestone - 1,000 apps
1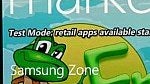 With it yet still to officially launch stateside, Windows Phone 7 is already marking its first milestone as the Marketplace for mobile has hit 1,000 apps so far. Sure that undoubtedly pales in comparison to the wealth of other platforms out there, but it's still nonetheless a resounding achievement for the newest platform on the block.
In fact, it basically took less than 3 weeks to reach that mark – which is far better than the 7 months it took the Windows Mobile Marketplace to do. As our European friends get their opportunity at checking out all the neat new stuff that Windows Phone 7 has to offer, we're sure that developers are hard at work in getting more apps in time for North America's launch.
In due time though, it'll be interesting to see how things pan out in the mobile landscape as the market embraces yet another key player.
via
WMPoweruser