Windows Phone 7 "Mango" update could be delayed until next year
19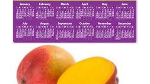 Bad news for Windows Phone 7 users, manufacturers that produce phones using the OS, and Nokia. There is speculation that the major "Mango" upgrade expected sometime this year, will be delayed until 2012. Among the improvements that the upgrade was to bring to Windows Phone 7 models is support for multitasking, and the improved IE9 browser.
Manufacturers of phones using Microsoft's OS would be hurt in the sense that their phones could fall behind their own Android models in terms of features. For example, multitasking support is something that most smartphone buyers want, and is available on most platforms.
Nokia could be hurt the most as the Finnish based firm was planning on launching a new line of Windows Phone 7 devices. With "Mango" delayed until 2012, Nokia could end up having to rely on its Symbian lineup during the holiday shopping season, when the company was hoping to electrify the smartphone market with its new Windows Phone 7 models. The manufacturer could release handsets with Microsoft's OS after the minor "NoDo" upgrade has been released, but Nokia was apparently basing its new WP7 line around the more substantial "Mango" upgrade.
source:
electronista
Recommended Stories