Windows 8's traditional desktop to be a separate app, the touch-optimized Metro style UI takes over
29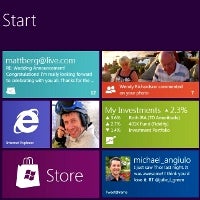 Microsoft announced at its
Windows 8
blog that the tile-based Metro UI desktop would be a
permanent feature
, and the traditional Windows 8 desktop code won't even be loaded in the background, unless you call it as a separate app.
it will load as a separate app
. Otherwise no Windows 8 desktop code will be loaded to save on memory and battery. Pretty neat approach, and Microsoft also revealed some changes in the Windows Explorer navigation interface.
Everything will be Ribbon-ized now, like in Office, with big fat icons, which will be more finger-friendly than what we have now in Windows 7, so even if you switch to the traditional desktop view, the interface will be more touchscreen-friendly now, despite that it will work well with a keyboard and a mouse as until now.
Microsoft will unveil much more about how deep the Metro style UI goes at its BUILD conference September 13-16, which is dedicated to the Windows 8 era. Now, where are those
quad-core Windows 8 tablets
?
source:
Microsoft