Windows + Android = WindowsAndroid!
33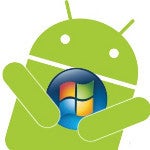 WindowsAndroid is a new PC program allowing you to run Android natively on your Windows 8, 7 or Vista PC. Some of you may remember BlueStacks - a program with a similar purpose, but not quite the same. While BlueStacks lets you run Android apps on your Windows PC, WindowsAndroid by Socketeq makes it possible to run Android itself, along with any apps you may want.
Right now, the WindowsAndroid program is not quite ready, and it seems it requires some geeky moves in order to get it working, but the developer promises that everything will be easily accessible for regular consumers once it's ready.
WindowsAndroid executes Android 4.0 using the Windows kernel, instead of the Linux one, which allows the mobile OS to perform smoothly since no emulation action is going on. The program should make it possible for every Android enthusiast to seamlessly run their favorite apps on their PC.
If you wish to give WindowsAndroid a try, you can download the program from the developer's website
here
. Note: If the link to the developer's website doesn't work for you, it's probably because of the "heavy load". It should be back up soon.
via:
SlashGear