Will your bent Apple iPhone 6 Plus get replaced for free?
83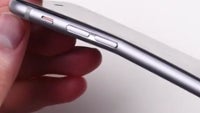 When Antennagate affected
Apple iPhone 4
users back in 2010,
Apple sent out rubber bumpers for free
, in order to prevent the user from having his body negatively affect the signal reception on the phone. But now,
Apple iPhone 6 Plus
users are dealing with Bentgate, which
revolves around the propensity of the phablet to bend while resting in a user's front pocket
. All of these units are under warranty.
Still, an Apple rep questioned about whether Apple would replace a bent iPhone 6 Plus, said that each unit will have to undergo a
Visual Mechanical Inspection
. If the unit passes, the handset will be exchanged for a free replacement. Otherwise, the phone's owner will be responsible for the cost of a new model. For Apple to cover the cost of a new unit, the bending has to be the result of unintentional behavior. So if you posted a video on You Tube demonstrating how you bent your iPhone 6 Plus, you might be out of luck.
"(Whether Apple will give you a free replacement) is 100 percent up to the Genius you speak with at the store. There is a test called a Visual Mechanical Inspection that the device will have to pass. If it is within the guidelines, they will be able to cover it. If not, the replacement would be a paid one."-Apple representative
Even before Bendgate started,
the 4.7 inch Apple iPhone 6 was apparently outselling the 5.5 inch iPhone 6 Plus by a huge margin
. Watching videos showing the iPhone 6 Plus turning into a clamshell phone is not going to change things. If you happen to own a bent model, you should probably contact Apple immediately with all of the documentation that you can provide. The aforementioned Apple rep says that "
Apple is looking into this with an insane amount of detail."


source:
TheNextWeb
via
BGR