Early data shows the public favoring the 4.7 inch Apple iPhone 6 by a wide margin
89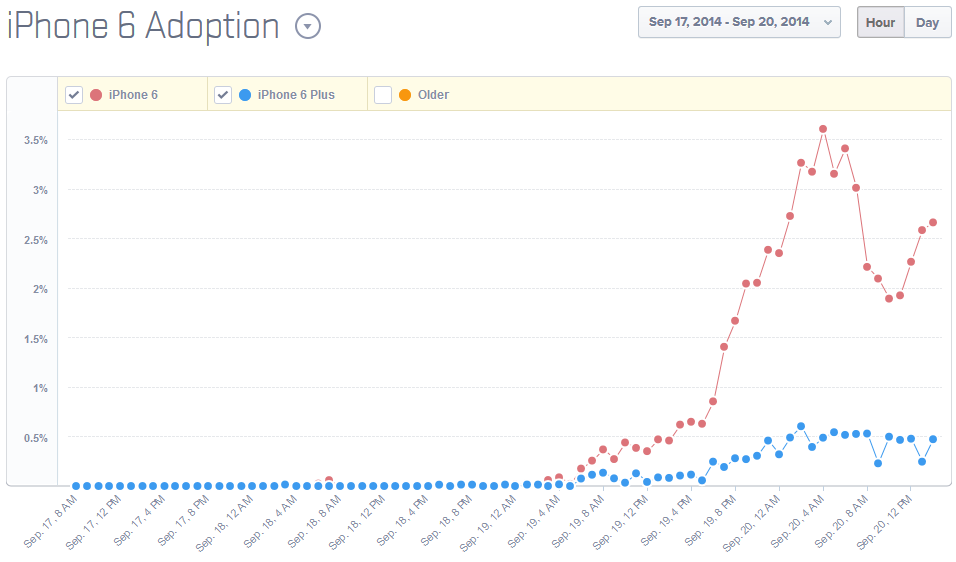 Online traffic from the Apple iPhone 6 overwhelms Apple iPhone 6 Plus traffic
Early data indicates that online traffic attributable to the smaller 4.7
Apple iPhone 6,
is overwhelming traffic related to the larger 5.5 inch
Apple iPhone 6 Plus
. According to analytics firm MixPanel, a little more than 24 hours after the launch of Apple's two new handsets, the evidence clearly shows that the public is favoring the Apple iPhone 6, and by a fairly wide margin, too.
Early Saturday (4am UCT), the Apple iPhone 6 represented 3.60% of the iPhone traffic seen by MixPanel. That dwarfs the .49% of traffic related to the Apple iPhone 6 Plus. That means that for each iPhone 6 Plus spotted on the adoption chart, more than seven iPhone 6 units were seen.
While this goes against expectations that demand for the larger screened iPhone would outnumber that for the iPhone 6, these numbers could be due to a variety of reasons. As we pointed out before the actual launch, the iPhone 6 Plus represents a smaller number of early iPhone 6 units shipped by the manufacturer. One report stated that
the phablet accounted for only 2% to 3% of all iPhone 6 units shipped
. The earlier report also noted that when it comes to the iPhone 6 Plus, only one color was being shipped by Apple, and the 16GB variant was not yet in transit.
This means that the data could simply be showing the discrepancy in shipping data. It also could mean that for one reason or another, a number of iPhone 6 Plus units ordered have not yet been shipped, and if they have, were not yet activated by their buyers. Besides having a larger screen, the iPhone 6 Plus features a larger battery and OIS for the rear 8MP camera.
Thanks for the tip!
source:
MixPanel
via
iTechPost