Will the Nexus 6P bend without Gorilla Glass 4 getting compromised?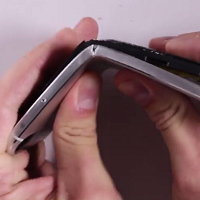 Late week, a video from JerryRigEverything allegedly showed that the Huawei built
Nexus 6P
has a terrible build quality
. Not only did the screen scratch easily, but the phone broke in half using about the same amount of effort you might spend when dividing a Hershey bar in two. But smartphone fans quickly pointed out that by destroying the Gorilla Glass 4 protection that covered the screen, Jerry had compromised the strength of the handset, thus making it easier for him to bend.
Other videos subsequently showed that the Nexus 6P did not have an issue,
as it was able to survive 90 pounds of pressure with only a small bend
. This seemingly would prove that Jerry had either rigged the original bend test, compromised the phone by destroying Gorilla Glass, or received a poorly built unit by the luck of the draw.
Responding to the criticism, Jerry produced a brand new video today. On it, he brought out a new unopened Nexus 6P and quickly pointed out "three fatal structural flaws" in the design. One is on the bottom of the phone where an aluminum mid-frame is supposed to make the phone rigid and hard to bend. But as Jerry points out, the aluminum is not attached to the phone's housing. A thin film of glass and plastic dovetail joints hold the aluminum mid-frame against the rear of the Nexus 6P.
The second flaw, according to the video's host, is the thin sidewalls employed on the rear aluminum back. The third flaw is by the power button, where the battery and motherboard come to an end. This is the perfect area, he says, to start the bending process.
Unlike the last video he made, Jerry does not destroy the Gorilla Glass, and he once again bends the device like Beckham. And yes, he does makes it look easy.
At this stage, we can pretty much rule out the possibility that Jerry randomly received a bad unit. That might happen once, but the odds are against it happening twice in a row. We can also put to rest the charge that by compromising Gorilla Glass, he made it easier to bend. If there is another trick at play here, drop us a line in the comment box below. Otherwise, we might have to consider the possibility that the Nexus 6P is as easy to bend as it appears on this video.
Thanks for the tip!
source:
JerryRigEverything