Why someone put Android Wear notifications on his mirror
9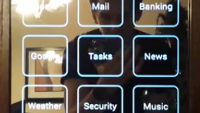 Why would someone put Android Wear notifications on a mirror? Reddit poster Nick Nothom created a "smart mirror" that reveals his Android Wear notifications. Nothom actually had an interesting goal. He wanted to be notified when his smartwatch had finished charging, a noble gesture indeed.
Using the mirror, Bothom now can be combing his hair, putting on contacts or reflecting on his reflection when checking out the notifications on his mirror. He obviously looks for that one notification telling him that his smartwatch is 100% charged. After all, how can you greet the day when your smartphone isn't powered up to the max.
Nick's mirror display is actually driven by an Android smartphone that runs through an HDMI hookup. Even though the idea was to track Android Wear notifications on the mirror, using a smartphone makes sense. After all, the majority of smartwatches require you to pair it with a handset.
source:
NickNothom,
Reddit
via
SlashGear