White Samsung Galaxy S III having build quality issues too?
51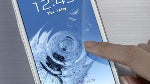 Do you remember the late May story that Samsung had to destroy over 600,000 back covers of the blue Galaxy S III, because of problems with the paint? Well, it looks like the white version of the handset may note be flawless too.

One of our readers has sent us some photos of their white Galaxy S III. The phone has been purchased along with a case, and the case hasn't been taken off since then. However, just a couple of days ago, our reader claims to have taken the case off, and found out that some small cracks have appeared on the back cover, right around the camera area. According to our user, the cracks are fairly small and aren't visible on the inner side of the cover, but still, it would have been much better if they were actually found only on the inside. But why would they appear in the first place?



We'll reach out to Samsung in an attempt to see if this is a common problem, or an isolated case. Meanwhile, do your observe anything similar with your white Galaxy S III? If you do, feel free to send us a pic using our tips form.


Thanks, Atanas!
UPDATE:
Another user has sent us a pic showing some small cracks that have appeared in the paint of his white Galaxy S III back cover around the area of the camera.