Which version of Android is your smartphone running on?
78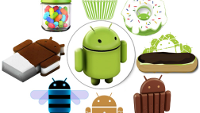 Google and the world alike count Android's open source nature as one of its biggest advantages over competitors – it allowed and continues to make possible the viral spread of the platform around the world. Ironically, it can also be seen as one of its biggest weaknesses, as it means that the search giant is delegating a lot of power to manufacturers, who may not always live up to the trust placed in them – that they will represent Android in the best possible light.
We're, of course, referring to the fragmentation inherent to Android. Despite all efforts, more than 50% of users are stuck on Android Jelly Bean or earlier today, and according to stats from Google, just 3.3% make use of the latest Lollipop build. Almost nobody has yet experienced the newest firmware first-hand, and most of us won't for a long time to come.
Are you among those people? Or are you part of an elite minority that is already enjoying Material Design-esque Android? Any of you still stuck on the super-old, seemingly undefeatable Android Gingerbread or Ice Cream? Let us know by casting your vote below!