Which one of the new Kindle Fires you like best?
12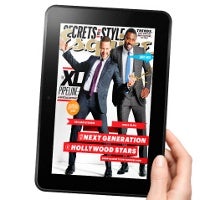 So there you have it folks - Amazon just introduced the Kindle Fire HD tablet family, an impressive amalgamation of a low-price, quick access to Amazon's ecosystem and contemporary hardware.
Let's quickly recap what we have. Jeff Bezos went on stage and first announced an upgraded Kindle Fire. No HD moniker here, hence the same 1024x600-pixel screen, but at a lower, $159 price. Not only that, the hardware has been bumped up to include a 40% faster processor and double the RAM memory.
Then Bezos dropped the bomb with the Amazon Kindle Fire HD family. First came the Amazon Kindle Fire HD 7-inch with a 1280x800-pixel screen, 16GB of memory and the low price of $199.
Next, the Amazon Kindle Fire HD 8.9-inch surprised us all with its big high-res screen, unmatched for the $299 price it sports.
The final member of the Amazon Kindle Fire HD family is the 8.9-inch Fire HD with 4G LTE priced at $499. It packs more internal memory and brings 4G LTE connectivity for only $50 a year - that's right not per month, it's per year. This buys you 250MB of data monthly, fit for only modest use and for greedier users there is the option to upgrade at AT&T.
So which one do you like best? Are you getting one of them? Let us know below!