Which continent is in love with the iPhone?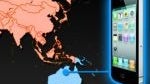 StatCounter and Pingdom have teamed up to analyze the
web usage
of popular
operating systems
, and break them down by continent and country. You might be surprised to hear that iOS (excluding the iPad) is most popular in
Australia
(Oceania). iOS is 7 times more popular than the next most popular OS, Symbian.
iOS also holds the lead in web usage in both
Europe
and North America. In Europe, it holds a significant lead over BlackBerry. However, iOS in North America is only marginally more popular than BlackBerry and Android.
Symbian holds its greatest advantage in Africa, where it dwarfs all other operating systems. This is likely due to availability and affordability of devices, rather than appeal. Symbian also holds the lead in Asia and South America, and is still the most popular OS worldwide.
Broken down by country, iOS has a staggering advantage in Canada (83.7%), Cuba (77.2%), and Switzerland (76.7%). The U.S. doesn't even make the top 10 for the most iOS-obsessed nation, with only 35.2%.
Android
has its greatest foothold in South Korea (78.3%), likely because this is Samsung's home turf. No other country had such high Android usage statistics, with Austria (27.3%) and Taiwan (26.5%) trailing behind.
While BlackBerry had it's greatest strength in North America, its strongest nations are the Dominican Republic (57.1%), Guatemala (45.4%), and the U.K. (40.4%). BlackBerry enjoys surprisingly little popularity in its home country of Canada, with only 3.6%.
You should know that webOS and Windows Mobile made up a negligible amount of global web traffic. We should also reiterate that this is a measure of web usage, not device sales. That might somehow account for iOS' overwhelming popularity in Australia.
source:
Pingdom
via
IntoMobile