Survey: Loyalty in the OS business is nearly non-existent
10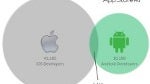 A global online survey of the OS market conducted by GfK points which platforms have the most loyal customers. The research in which 2,653 mobile phone users from Brazil, Germany, Spain, Britain, the United States and China participated, shows that only Apple may feel safe for its market share. And as we all know Steve Jobs, it seems highly unlikely that he will allow any complacency in his company.
The research shows that due to the growing diversity in the high-end smartphone market, only 25% of the people who participated in the survey say that they will definitely continue to use the OS they are currently using. When it comes to loyalty, Apple is absolute leader with 59%. RIM is second with 35%, while a little bit surprisingly, users who stated that they will stick with the green Android robot are only 28%. Nokia's Symbian OS and Microsoft's mobile platform are at the bottom with 24% and 21% respectively.
Of course, things are bound to change as Nokia has
a new CEO
making changes and Microsoft has a new mobile OS. Yet, what do you make of these figures? Does it seem strange to you that RIM has such a high percent of loyalty around the world? Is it true that Android is lacking a loyal fanbase? Tell us now with your comments.
source:
Reuters
Recommended Stories