"Whenever iPhone succeeds, Google succeeds", says a Google president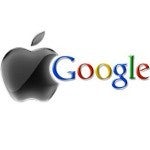 Some people tend to forget that Apple and Google were the best of mates before the latter decided to join the mobile world with its Android platform - something which didn't get much appreciation from one Steven Paul Jobs.
Nevertheless, Google is not the type of company that will give a knee-jerk reaction to this sentiment. Quite the opposite, actually, as Mr. Daniel Alegre, the company's president in the Asia Pacific region claims that Google benefits from the strong sales of Apple's iPhone. In his own words:
"Whenever iPhone succeeds, Google succeeds. I actually don't look at it as iPhone versus Android. iPhone is a very strong driver of query growth for Google. We also monetise apps through the iPhone..we actually benefit from iPhone's growth."
Well, it seems Apple and Android fanboys may fight each other in the forums, but the Mountain View-based giant doesn't mind the iPhone's success even one bit, which is quite understandable given the fact it profits some good money from the above-mentioned handset.
That, however, is not to say Google is not focused on its Android OS - a notion that's proved by its success. Mr. Alegre says on the topic:
"We truly believe there has to be as few platforms as possible in order for apps developers to focus their development. So far we are starting to see tremendous success for the Android operating system. We have 300,000 activations per day which is a phenomenal number."
Do you think that we, as end consumers, will benefit if there are fewer OSs?
source:
AdNews
via
TUAW